Latin-American perceptions on definitions and arguments about crossmedia and transmedia in advertising
Palabras clave:
Crossmedia, Transmedia, Storytelling, Brands, Concepts, Definitions, Advertising, Interactivity, Values, Digital trends, Consumers, Prosumers, Categories, Social media, Latin America.
Resumen
Digital society has caused changes in the conventional forms of advertising. The values and interactive processes associated lead commercial brands to adapt to new situations. This paper reflects on crossmedia and transmedia storytelling concepts and their use in the Latin American context. There has been a transformation built on a hypermodern society, influenced by sociotechnological devices. The main objectives of this work are to define and categorize the new advertising formats arising from this context, as well as to identify the new conceptual manifestations. Through a conceptual revision, the text shows that the traditional forms of strategic advertising planning are changing, determined by conceptual and media hyperrelation. Now there is a sense of growing consumer power, who is also an active consumer of social media and advertising. In the current Latin American context, the consumer becomes a necessary collaborator in the process of producing meaning.
Referencias
Amorós-Pons, Anna; Comesaña-Comesaña, Patricia (2016). "Cartoons, publicidad y transmedialidad". Cuadernos.info, n. 39, pp. 165-180. https://doi.org/10.7764/cdi.39.752
Baudrillard, Jean (1969). El sistema de los objetos. Madrid: Siglo XXI. ISBN: 968 23 0347 8
Bauman, Zygmunt (2001). Modernidade líquida. Rio de Janeiro: Zahar. ISBN: 8537807729
Benavides-Delgado, Juan (2005). "Nuevas propuestas para el análisis del lenguaje en los medios". Questiones publicitarias, v. 1, n. 10, pp. 13-33. https://doi.org/10.5565/rev/qp.154
Braga, Adriana (2006a). "Técnica etnográfica aplicada à comunicação online: uma discussão metodológica". UNIrevista, v. 1, n. 3, pp. 1-11.
Braga, José-Luiz (2006b). "Sobre 'mediatização' como processo interacional de referência". En: Anais XV Encontro Nacional da Compós, Unesp-Bauru, 6-9 de junho. https://goo.gl/YeD7U8
Caro-Almala, Antonio (2007). "La publicidad como núcleo de un imaginario globalizado". In: Hellín-Ortuño, Pedro A. (ed.). El discurso publicitario contemporáneo. Su relación con lo social. Murcia: Diego Marín, pp. 79-97. ISBN: 978 84 84256137
Casaqui, Vander (2011). "Por uma teoria da publicização: transformações no processo publicitário". Significação. Revista de cultura audiovisual, v. 38, n. 36, pp. 131-151. https://doi.org/10.11606/issn.2316-7114.sig.2011.70935
Checa-Montúfar, Fernando (2011). "De la 'recepción' al 'consumo': una necesaria reflexión conceptual". In: Jacks, Nilda (org.), Análisis de recepción en America Latina: un recuento histórico con perspectivas al futuro, pp. 13-17. Quito: Ciespal. ISBN: 978 9978 55 089 2 https://biblio.flacsoandes.edu.ec/shared/biblio_view.php?bibid=127940&tab=opac
Codina, Lluís (2018). Revisiones bibliográficas sistematizadas: procedimientos generales y framework para ciencias humanas y sociales. Barcelona: Universitat Pompeu Fabra, Departamento de Comunicación, Máster Universitario en Comunicación Social. http://hdl.handle.net/10230/34497
Couldry, Nick; Hepp, Andreas (2013). "Conceptualizing mediatization: contexts, traditions, arguments". Communication theory, v. 23, n. 3, pp. 191-102. https://doi.org/10.1111/comt.12019
Di-Nallo, Egeria (1999). Meeting points. Soluções de marketing para uma sociedade complexa. São Paulo: Cobra. ISBN: 8585536209
Fausto-Neto, Antonio (2010). "As bordas da circulação...". Alceu, v. 10, n. 20, pp. 55-69. http://revistaalceu-acervo.com.puc-rio.br/cgi/cgilua.exe/sys/start.htm?infoid=367&sid=32
Garrido-Pintado, Pablo; Estupiñán-Estupiñán, Óscar (2016). "Analysis of character construction in transmedia advertising narrative". Prisma social, n. 17, pp. 140-161. http://revistaprismasocial.es/article/view/1280
Giddens, Anthony (2002). Modernidade e identidade. Rio de Janeiro: Zahar. ISBN: 978 8571106697
Hellín-Ortuño, Pedro A. (2007). Publicidad y valores postmodernos. Madrid: Siranda. ISBN: 978 84 98216936
Ibrus, Indrek; Scolari, Carlos A. (2012). Crossmedia innovations. Texts, markets, institutions. Frankfurt: Peter Lang. ISBN: 978 3 631622285
Jenkins, Henry (2008). Cultura da convergência. São Paulo: Aleph. ISBN: 978 8576570844
Kotler, Philip; Kartajaya, Hermawan; Setiawan, Iwan (2011). Marketing 3.0. As forças que estão definindo o novo marketing centrado no ser humano. Rio de Janeiro: Campus. ISBN: 8535238697
Lacalle, Charo (2010). As novas narrativas da ficção televisiva e a internet. Matrizes, v. 3, n. 2, pp. 79-102. https://doi.org/10.11606/issn.1982-8160.v3i2p79-102
Lévy, Pierre (2011). La sphère sémantique. Tome 1, Computation, cognition, économie de l'information. Paris: Hermès. ISBN: 978 2 746225060
Lipovetsky, Gilles (2007). A felicidade paradoxal. Ensaio sobre a sociedade de hiperconsumo. São Paulo: Cia. Das Letras. ISBN: 853591093X
Livingstone, Sonia (2011). Media literacy: Ambitions, policies and measures. Brussels: COST. ISBN: 978 2 960115727
http://eprints.lse.ac.uk/56879
Lopes, Maria-Immacolata-Vasallo (2009). Ficção televisiva no Brasil: temas e perspectivas. São Paulo: Globo Universidade. ISBN: 8525047961
Lopes, Maria-Immacolata-Vasallo (2011). Ficção televisiva transmidiática no Brasil: plataformas, convergência, comunidades virtuais. Porto Alegre: Sulina. ISBN: 852050633X
Lopes, Maria-Immacolata-Vasallo (org.) (2013). Estratégias de transmidiação na ficção televisiva Brasileira. Porto Alegre: Sulina. ISBN: 8520504523 http://especial.globouniversidade.redeglobo.globo.com/livros/ficcao_televisiva.pdf
McCracken, Grant (2003). Cultura e consumo. Novas abordagens ao caráter simbólico dos bens e das atividades de consumo. Rio de Janeiro: Mauad. ISBN: 978 8 574787855
Ribeiro, José-da-Silva; Bairon, Sérgio (orgs). (2007). Antropologia visual e hipermedia. Porto: Afrontamento. ISBN: 978 9723608694
Rocha, Everardo (2006). Representações do consumo. Estudos sobre a narrativa publicitária. Rio de Janeiro: Mauad. ISBN: 978 8 574782010
Scolari, Carlos A. (2009). "Transmedia storytelling: Implicit consumers, narrative worlds, and branding in contemporary media production". International journal of communication, v. 3, pp. 586-606. https://ijoc.org/index.php/ijoc/article/view/477/336
Semprini, Andrea (2006). A marca pós-moderna. São Paulo: Estação das Letras. ISBN: 978 8 560166022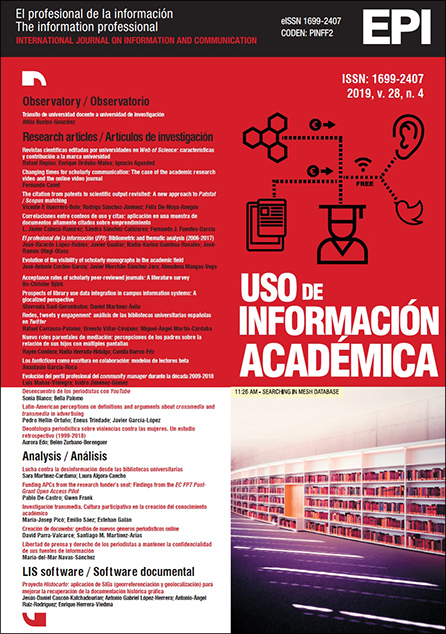 Descargas
Cómo citar
Hellín-Ortuño, P., Trindade, E., & García-López, J. (2019). Latin-American perceptions on definitions and arguments about crossmedia and transmedia in advertising. Profesional De La información, 28(4). https://doi.org/10.3145/epi.2019.jul.08
Sección
Artículos de investigación / Research articles
Licencia
Condiciones de difusión de los artículos una vez son publicados
Los autores pueden publicitar sus artículos de acuerdo con estos términos:
Pasadas 2 semanas desde la publicación (tiempo necesario para que Google indexe la versión de la web de la revista), los autores pueden ofrecer en sus webs (personales o institucionales) o en cualquier repositorio de acceso abierto (OA) una copia del trabajo publicado por EPI. Deberán respetarse sin embargo, las siguientes condiciones:
- Solo deberá hacerse pública la versión editorial. Rogamos que no se publiquen preprints, postprints o pruebas de imprenta.
- Junto con esa copia ha de incluirse una mención específica de la publicación en la que ha aparecido el texto, añadiendo además un enlace clicable a la URL: http://www.profesionaldelainformacion.com
La revista Profesional de la información ofrece los artículos en acceso abierto con una licencia Creative Commons BY 
.
Descargas
La descarga de datos todavía no está disponible.