Evolution of negative visual frames of immigrants and refugees in the main media of Southern Europe
Palabras clave:
Framing theory, Visual frames, Photographs, News media, Immigrants, Refugees, Migration crisis, Refugee crisis, Prejuidice, Rejection, Southern Europe
Resumen
The Mediterranean migration crisis especially affects three Southern European countries that represent the main gateways into the continent for immigrants and asylum seekers: Spain, Italy, and Greece. In recent years, feelings of rejection towards migration have been increasing in all of them, accompanied by a simultaneous increase in the number of hate crimes. Similarly, the representation of these groups in European news media seems to have worsened, especially since 2015, the year in which the migratory crisis significantly worsened. This coverage could be affecting European citizens on emotional, cognitive, and attitudinal levels and thus should be rigorously analyzed. The present study is based on the theory of framing and, specifically, on visual framing to analyze the connotative representations of immigrants and refugees spread by the reference media of Southern Europe through images, paying more attention to the negative frames in particular, which represent displaced people as a burden or threat. Specifically, 360 photographs taken between 2014 and 2019 and published by the main media in Spain, Italy, and Greece were subject to content analysis. The findings show a temporal increase in the negative visual frames of immigrants and refugees in the analyzed media. Differences were also found between countries, with Greece presenting a higher percentage of images with negative frames, as well as a greater predominance of this type of frame compared with the other countries. Finally, differences were identified between the media themselves, including the Greek Kathimerini, a media outlet that stands out for the amount and prevalence of photographs framing immigrants and asylum seekers as a burden and threat.
Descargas
Los datos de descargas todavía no están disponibles.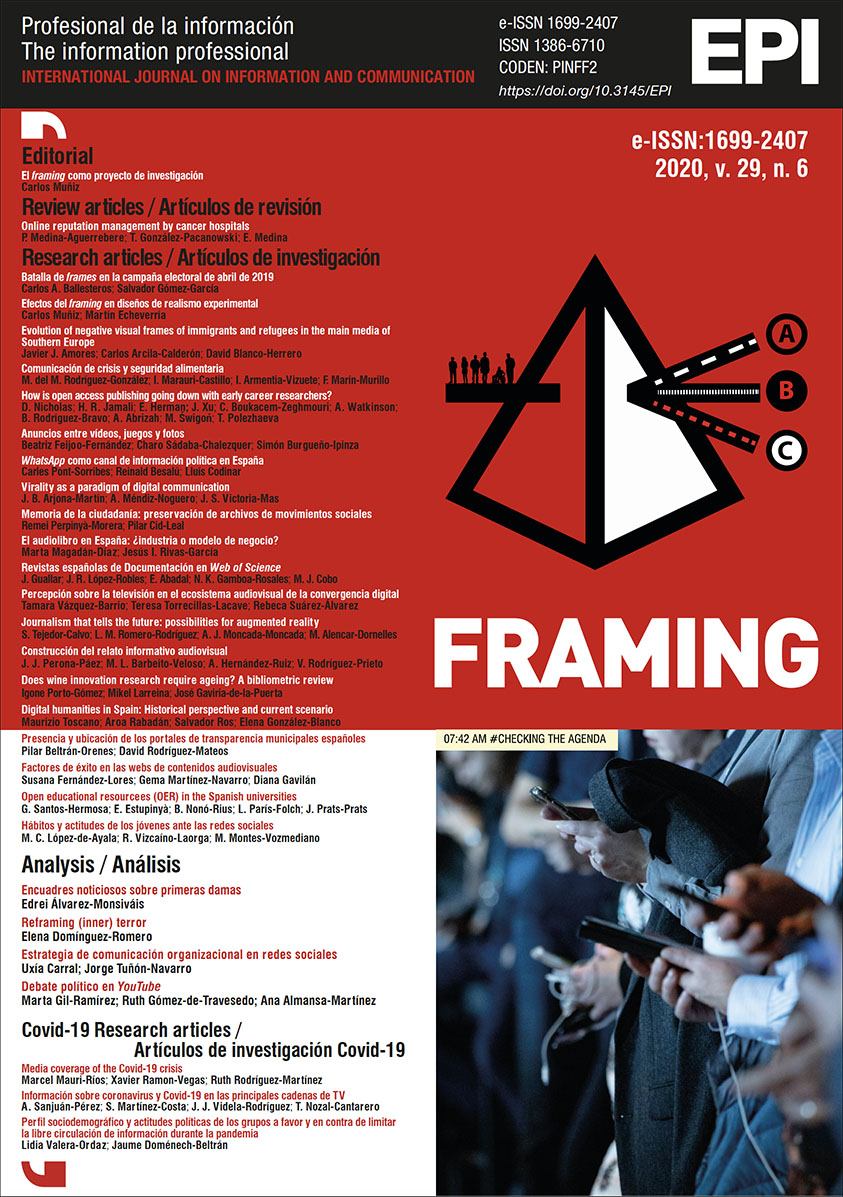 Descargas
Cómo citar
Amores, J. J., Arcila-Calderón, C., & Blanco-Herrero, D. (2020). Evolution of negative visual frames of immigrants and refugees in the main media of Southern Europe. Profesional De La información Information Professional, 29(6). https://doi.org/10.3145/epi.2020.nov.24
Sección
Artí­culos de investigación / Research articles
Licencia
Condiciones de difusión de los artí­culos una vez son publicados
Los autores pueden publicitar libremente sus artí­culos en webs, redes sociales y repositorios
Deberán respetarse sin embargo, las siguientes condiciones:
- Solo deberá hacerse pública la versión editorial. Rogamos que no se publiquen preprints, postprints o pruebas de imprenta.
- Junto con esa copia ha de incluirse una mención especí­fica de la publicación en la que ha aparecido el texto, añadiendo además un enlace clicable a la URL: http://www.profesionaldelainformacion.com
La revista Profesional de la información ofrece los artí­culos en acceso abierto con una licencia Creative Commons BY.