Inequality in times of pandemics: How online media are starting to treat the economic consequences of the coronavirus crisis
Palabras clave:
Covid-19, Coronavirus, Pandemics, Digital media, Income inequality, Inequality of opportunities, Digital journalism, Spain, Europe, Latin America, Social classes.
Resumen
In December 2019, Chinese authorities informed the World Health Organization about a new coronavirus disease that would come to be called Covid-19. The world media began reporting on this new virus and its consequences. However, reports about Covid-19 would not appear in the European and American media until their societies became aware of both the health and economic consequences of Covid-19 in March 2020. This article analyzes the online media coverage of economic inequality. The goal is to understand the formation of the public agenda, based on the impact of the disease on social classes as the main factor generating greater inequality levels, in particular inequality of opportunities as the most remarkable topic during the first stage of the pandemic. According to the first results of this content analysis, the social class divide will be deepened by the pandemic. For this study, a tool was designed to analyze both the manifest and latent content of the items. Using content analysis, an analysis of news published by 33 digital media in both Europe and Latin America from March 14 to April 14, 2020 was conducted. The results of this study show that income inequality appears as the core variable of the problem, although social classes remain important. The imbalanced access to health and education public services also receives continuous coverage in the media. However, poverty as a consequence of this situation remains an uncomfortable issue and tends to be presented in an undramatized way.
Descargas
Los datos de descargas todavía no están disponibles.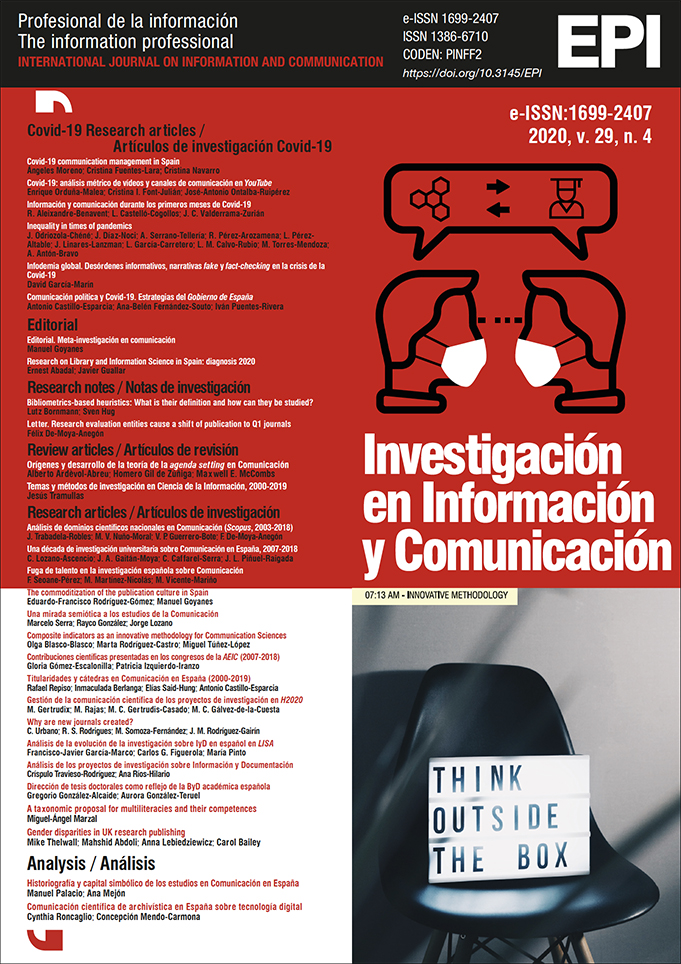 Descargas
Cómo citar
Odriozola-Chéné, J., Dí­az-Noci, J., Serrano-Tellerí­a, A., Pérez-Arozamena, R., Pérez-Altable, L., Linares-Lanzman, J., … Antón-Bravo, A. (2020). Inequality in times of pandemics: How online media are starting to treat the economic consequences of the coronavirus crisis. Profesional De La información Information Professional, 29(4). https://doi.org/10.3145/epi.2020.jul.03
Sección
Artí­culos de investigación Covid-19 / Covid-19 research articles
Licencia
Condiciones de difusión de los artí­culos una vez son publicados
Los autores pueden publicitar libremente sus artí­culos en webs, redes sociales y repositorios
Deberán respetarse sin embargo, las siguientes condiciones:
- Solo deberá hacerse pública la versión editorial. Rogamos que no se publiquen preprints, postprints o pruebas de imprenta.
- Junto con esa copia ha de incluirse una mención especí­fica de la publicación en la que ha aparecido el texto, añadiendo además un enlace clicable a la URL: http://www.profesionaldelainformacion.com
La revista Profesional de la información ofrece los artí­culos en acceso abierto con una licencia Creative Commons BY.