Why are some websites researched more than others? A review of research into the global top twenty
Palabras clave:
Webs, Major websites, Popular websites, Scholarly interest, Academic research, Success reasons, Comparative research, Cybermetrics, Google, YouTube, Facebook, Baidu, Wikipedia, Yahoo, Amazon, Twitter, Review article.
Resumen
The web is central to the work and social lives of a substantial fraction of the world's population, but the role of popular websites may not always be subject to academic scrutiny. This is a concern if social scientists are unable to understand an aspect of users' daily lives because one or more major websites have been ignored. To test whether popular websites may be ignored in academia, this article assesses the volume and citation impact of research mentioning any of twenty major websites. The results are consistent with the user geographic base affecting research interest and citation impact. In addition, site affordances that are useful for research also influence academic interest. Because of the latter factor, however, it is not possible to estimate the extent of academic knowledge about a site from the number of publications that mention it. Nevertheless, the virtual absence of international research about some globally important Chinese and Russian websites is a serious limitation for those seeking to understand reasons for their web success, the markets they serve or the users that spend time on them. The sites investigated were Google, YouTube, Facebook, Baidu, Wikipedia, QQ, Tmall, Taobao, Yahoo, Amazon, Twitter, Sohu, Live, VK, JD, Instagram, Sina, Weibo, Yandex, and 360.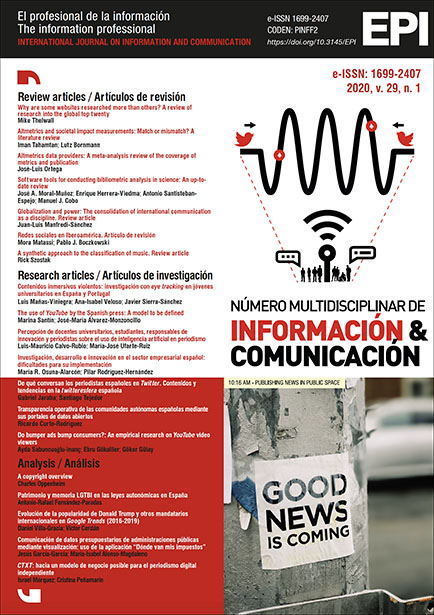 Descargas
Cómo citar
Thelwall, M. (2020). Why are some websites researched more than others? A review of research into the global top twenty. Profesional De La información, 29(1). https://doi.org/10.3145/epi.2020.ene.01
Sección
Artículos de revisión / Review articles
Licencia
Condiciones de difusión de los artículos una vez son publicados
Los autores pueden publicitar sus artículos de acuerdo con estos términos:
Pasadas 2 semanas desde la publicación (tiempo necesario para que Google indexe la versión de la web de la revista), los autores pueden ofrecer en sus webs (personales o institucionales) o en cualquier repositorio de acceso abierto (OA) una copia del trabajo publicado por EPI. Deberán respetarse sin embargo, las siguientes condiciones:
- Solo deberá hacerse pública la versión editorial. Rogamos que no se publiquen preprints, postprints o pruebas de imprenta.
- Junto con esa copia ha de incluirse una mención específica de la publicación en la que ha aparecido el texto, añadiendo además un enlace clicable a la URL: http://www.profesionaldelainformacion.com
La revista Profesional de la información ofrece los artículos en acceso abierto con una licencia Creative Commons BY 
.
Descargas
La descarga de datos todavía no está disponible.