Desinformación en las elecciones presidenciales 2018 en Brasil: un análisis de los grupos familiares en WhatsApp
Palabras clave:
Desinformación, Noticias falsas, Posverdad, Manipulación, Elecciones, Política, Comunicación política, Redes sociales, Brasil, WhatsApp.
Resumen
Esta investigación busca verificar qué tipo de contenidos fue más compartido en los grupos familiares de Whatsapp durante la campaña presidencial brasileña de 2018 y, de éstos, qué porcentaje contenía información falsa. La relevancia del estudio se justifica por la dificultad de acceso a datos de dicha aplicación y porque durante la campaña electoral se comentó en la opinión pública que este canal era una fuente de desinformación. Se ha llevado a cabo el análisis cuantitativo de 472 posts compartidos en diez grupos. El acceso a los datos fue posible gracias a la colaboración de ciudadanos que atendieron nuestra convocatoria para participar en el estudio. Los resultados muestran que la imagen fija con texto fue el tipo de contenido que más circuló en los grupos y que un 60% de los posts contenía información total o parcialmente falsa. Los hallazgos corroboran la existencia de un círculo de desinformación entre los usuarios de WhatsApp. 
Referencias
Allcott, Hunt; Gentzkow, Matthew (2017). "Social media and fake news in the 2016 election". Journal of economic perspectives, v. 31, n. 2, pp. 211-236. https://doi.org/10.3386/w23089
Bardin, Laurence (1977). Análise de conteúdo. Lisboa: Edições 70. ISBN: 972 44 0898 1
Bârgăoanu, Alina; Radu, Loredana (2018). "Fake news or disinformation 2.0? Some insights into Romanians' digital behaviour". Romanian journal of European affairs, v. 18, n. 1, pp. 24-38. http://rjea.ier.gov.ro/wp-content/uploads/articole/RJEA_vol.18_no.1_June2018_art.2.pdf
Breton, Philippe (2001). A palavra manipulada. Lisboa: Editorial Caminho. ISBN: 978 972 21 2115 6
Castells, Manuel (2012). Redes de indignación y esperanza: los movimientos sociales en la era de internet. Madrid: Alianza Editorial. ISBN: 978 84 20609607
Chomsky, Noam; Herman, Edward S. (1988). Manufacturing consent: The political economy of mass media. https://focalizalaatencion.files.wordpress.com/2012/08/herman-chomsky-2002-manufacturingconsent.pdf
Fuchs, Christian (2013). Social media: A critical introduction. London: Sage. ISBN: 978 1 4462 5731 9
Gabielkov, Maksym; Ramachandran, Arthi; Chaintreau, Augustin; Legout, Arnaud (2016). "Social clicks: What and who gets read on Twitter?". Procs of the 2016 ACM Sigmetrics intl conf on measurement and modeling of computer science. https://hal.inria.fr/hal-01281190
Galdón, Gabriel (2001). Desinformación. Método, Aspectos y soluciones. Navarra: Eunsa. ISBN: 978 84 31324186
Habermas, Jürgen (2003). Mudança estrutural na esfera pública: investigações quanto a uma categoria da sociedade burguesa. 2.ed. Rio de Janeiro: Tempo Brasileiro. ISBN: 1580193536047
Herring, Susan (2010). "Web content analysis: Expanding the paradigm". In: Hunsinger, Jeremy; Klastrup, Lisbeth; Allen, Matthew M. (eds.). International handbook of internet research. New York: Springer Verlag, pp. 233-249. ISBN 978 1 4020 9789 8
Krippendorf, Klaus (2004). Content analysis: An introduction to its methodology (2nd ed.). Thousand Oaks, CA: Sage. ISBN: 0 7619 1544 3
Martínez-Albertos, José-Luis (1977). El mensaje informativo. Barcelona: ATE. ISBN: 978 84 85047871
Medeiros, Jackson-da-Silva (2013). "Considerações sobre a esfera pública: redes sociais na internet e participação política". TransInformação, v. 25, n. 1, pp. 27-33. https://doi.org/10.1590/S0103-37862013000100003.
November, Alan (2016). Mission critical: How educators can help save democracy. https://novemberlearning.com/assets/MissionCriticalHowEducatorsCanHelpSaveDemocracy.pdf
Recuero, Raquel (2009). Redes sociais são grupos de atores. http://www.ihu.unisinos.br/entrevistas/23660-redes-sociais-sao-grupos-de-atores-entrevista-com-raquel-recuero
Shearer, Elisa; Gottfried, Jeffrey (2016). "News use across social media platforms." Pew Research Center, May 26. https://www.journalism.org/2016/05/26/news-use-across-social-media-platforms-2016
Shirky, Clay (2011). "The political power of social media: Technology, the public sphere, and political change". Foreign affairs, v. 90, n. 1, pp. 28-41. https://www.jstor.org/stable/25800379
Silverman, Craig; Singer-Vine, Jeremy (2016). "Most Americans who see fake news believe it, new survey says". BuzzFeed news, December 6. https://github.com/BuzzFeedNews/2016-12-fake-news-survey
Tandoc Jr., Edson C.; Lim, Zeng-Wei; Ling, Richard (2017). "Defining 'fake news'". Digital journalism, v. 6, n. 2, pp. 137-153. https://doi.org/10.1080/21670811.2017.1360143
Thorson, Emily (2008). "Changing patterns of news consumption and participation". Information, communication & society, v. 11, n. 4, pp. 473-489. https://doi.org/10.1080/13691180801999027
Törnberg, Petter (2018). "Echo chambers and viral misinformation: Modeling fake news as complex contagion". PLoS one, v. 13, n. 9, pp. 1-21. https://doi.org/10.1371/journal.pone.0203958
Volkoff, Vladimir (2000). Pequena história da desinformação: do cavalo de Tróia à Internet. Lisboa: Editorial Notícias. ISBN: 972 46 1155 8
Wardle, Claire (2017). "Fake news. It's complicated". Medium.com, February 16. https://medium.com/1st-draft/fake-newsits-complicated-d0f773766c79
Wardle, Claire; Derakhshan, Hossein (2018). "Thinking about 'information disorder': formats of misinformation, disinformation, and mal-information". In: Ireton, Cherilyn; Posetti, Julie. Journalism, 'fake news' & disinformation. Paris: Unesco, pp. 43-54. ISBN: 978 92 3 100281 6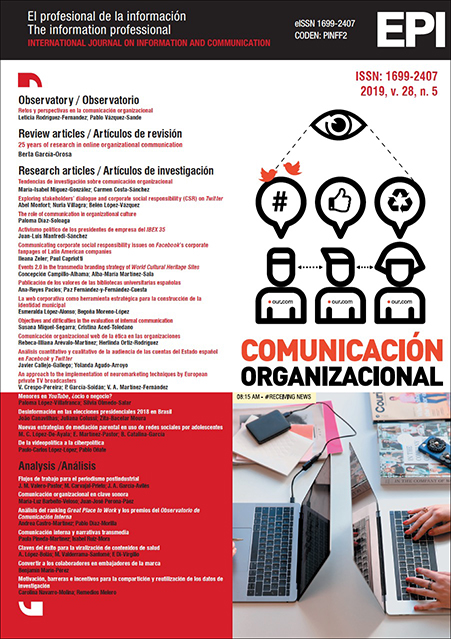 Descargas
Cómo citar
Canavilhas, J., Colussi, J., & Moura, Z.-B. (2019). Desinformación en las elecciones presidenciales 2018 en Brasil: un análisis de los grupos familiares en WhatsApp. Profesional De La información, 28(5). https://doi.org/10.3145/epi.2019.sep.03
Sección
Artículos de investigación / Research articles
Licencia
Condiciones de difusión de los artículos una vez son publicados
Los autores pueden publicitar sus artículos de acuerdo con estos términos:
Pasadas 2 semanas desde la publicación (tiempo necesario para que Google indexe la versión de la web de la revista), los autores pueden ofrecer en sus webs (personales o institucionales) o en cualquier repositorio de acceso abierto (OA) una copia del trabajo publicado por EPI. Deberán respetarse sin embargo, las siguientes condiciones:
- Solo deberá hacerse pública la versión editorial. Rogamos que no se publiquen preprints, postprints o pruebas de imprenta.
- Junto con esa copia ha de incluirse una mención específica de la publicación en la que ha aparecido el texto, añadiendo además un enlace clicable a la URL: http://www.profesionaldelainformacion.com
La revista Profesional de la información ofrece los artículos en acceso abierto con una licencia Creative Commons BY 
.
Descargas
La descarga de datos todavía no está disponible.