El libro y las editoriales académicas según los investigadores brasileños de Ciencias Sociales y Humanidades
Palabras clave:
Evaluación de libros, Libros académicos, Editoriales académicas, Indicadores de calidad, Investigadores, Humanidades y Ciencias Sociales, Evaluación científica, Publicación académica, Comunicación académica, Brasil.
Resumen
Este estudio pretende conocer los hábitos y las valoraciones de los investigadores en Ciencias Sociales y Humanidades de Brasil en torno a las publicaciones científicas y en especial sobre los libros académicos. Son varios los aspectos que se tratan: sus hábitos de publicación; sus opiniones sobre el formato libro como medio de comunicación, y sus valoraciones sobre las editoriales académicas basadas en su experiencia. Otros asuntos concretos de las monografías que se abordan son el pago por publicar, las editoriales universitarias y el acceso abierto. La investigación se ha basado en un cuestionario remitido a los coordinadores brasileños de los grupos de investigación de las Ciencias Sociales y Humanidades (16.542 investigadores) y obtuvo una tasa de respuesta del 12% (1.977 investigadores). El análisis de las respuestas recibidas destaca el valor que dan estos académicos al libro como publicación científica e identifica las debilidades del sector académico brasileño: falta de transparencia en procesos editoriales, financiación, y distribución. En la determinación del prestigio de las editoriales, los investigadores valoran la calidad de las obras publicadas, su transparencia y su rigor en los procesos editoriales.
Descargas
La descarga de datos todavía no está disponible.
Referencias
Ardanuy-Baró, Jordi (2009). "Els estudis bibliomètrics basats en l'anàlisi de citacions en àrees d'humanitats en el període 1959-2008". BiD: textos universitaris de biblioteconomia i documentació, n. 22. http://bid.ub.edu/22/ardanuy.htm
Borges-De-Oliveira, Aline (2018). Los libros en Ciencias Sociales y Humanidades en Brasil: un estudio a partir de los investigadores y de las editoriales. Tesis doctoral. Madrid: Universidad Complutense. https://eprints.ucm.es/55556/1/T41139.pdf
Broadus, Robert N. (1971). "The literature of the social science: a survey of citation studies". International social science journal, n. 23, pp. 236-243.
Bufrem, Leilah-Santiago (2015). Editoras universitárias no Brasil: Uma crítica para a reformulação da prática. São Paulo: EDUSP. ISBN: 978 85 31415234
Engels, Tim C. E.; Ossenblok, Truyken L. B.; Spruyt, Eric H. J. (2012). "Changing publication patterns in the social sciences and humanities, 2000-2009". Scientometrics, v. 93, n. 2, p. 373-390. https://doi.org/10.1007/s11192-012-0680-2
Falcó-Parra, Aitor (2018). Estudio de mercado. El mercado editorial en Brasil 2018. São Paulo: ICEX España Exportación e Inversiones. https://bit.ly/2P5Wxkn
FIPE (2017). Censo do livro digital. São Paulo: Câmara Brasileira do Livro; Sindicato Nacional dos Editores de Libros, SNEL; Fundação Instituto de Pesquisas Econômicas. https://snel.org.br/wp/wp-content/uploads/2018/02/Apresentacao-Censo-do-Livro-Digital.pdf
FIPE (2018). Produção e vendas do setor editorial brasileiro. São Paulo: Câmara Brasileira do Livro; Sindicato Nacional dos Editores de Libros, SNEL; Fundação Instituto de Pesquisas Econômicas. https://snel.org.br/wp/wp-content/uploads/2019/04/Apresentacao_pesquisa_ano_base_2018_imprensa.pdf
Giménez-Toledo, Elea (ed.) (2017). La edición académica española. Indicadores y características. Madrid: Federación de Gremios de Editores de España. ISBN: 978 84 86141 66 0 http://ilia.cchs.csic.es/SPI/spi-fgee/docs/EAEV2.pdf
Giménez-Toledo, Elea; Córdoba-Restrepo, Juan-Felipe (eds.) (2018). Edición académica y difusión. Libro abierto en Iberoamérica. Bogotá / Granada: Universidad del Rosario / Comares. ISBN: 978 958 784 166 4 https://doi.org/10.12804/th9789587841671
Giménez-Toledo, Elea; Mañana-Rodríguez, Jorge; Engels, Tim C. E.; Guns, Raf; Kulczycki, Emanuel; Ochsner, Michael; Pölönen, Janne; Sivertsen, Gunnar; Zuccala, Alesia A. (2019). "Taking scholarly books into account, part II: A comparison of 19 European countries in evaluation and funding". Scientometrics v. 118, n. 1, pp. 233-251. https://doi.org/10.1007/s11192-018-2956-7
Giménez-Toledo, Elea; Mañana-Rodríguez, Jorge; Tejada-Artigas, Carlos-Miguel (2015). "Review of national and international initiatives on books and book publishers assessment". El profesional de la información, v. 24, n. 6, pp. 705-716. https://doi.org/10.3145/epi.2015.nov.02
Giménez-Toledo, Elea; Román-Román, Adelaida (2009). "Assessment of humanities and social sciences monographs through their publishers: A review and a study towards a model of evaluation. Research evaluation, v. 18, n. 3, pp. 201–213. https://doi.org/10.3152/095820209X471986
Giménez-Toledo, Elea; Tejada-Artigas, Carlos; Mañana-Rodríguez, Jorge (2013). "Evaluation of scientific books' publishers in social sciences and humanities: Results of a survey". Research evaluation, v. 22, n. 1, pp. 64–77. https://doi.org/10.1093/reseval/rvs036
Kulczycki, Emanuel (2018). "The diversity of monographs: Changing landscape of book evaluation in Poland". Aslib journal of information management, v. 70, n. 6, pp. 608-622. https://doi.org/10.1108/AJIM-03-2018-0062
Kulczycki, Emanuel; Engels, Tim C. E.; Pölönen, Janne; Bruun, Kasper; Dušková, Marta; Guns, Raf; Nowotniak, Robert;
Petr, Michal; Sivertsen, Gunnar; Starčič, Andreja-Istenič; Zuccala, Alesia (2018). "Publication patterns in the social sciences and humanities: Evidence from eight European countries". Scientometrics, v. 116, n. 1, pp. 463-486. https://doi.org/10.1007/s11192-018-2711-0
Mañana-Rodríguez, Jorge; Pölönen, Janne (2018). "Scholarly book publishers' ratings and lists in Finland and Spain". Aslib journal of information management, v. 70, n. 6, pp. 643-659. https://doi.org/10.1108/AJIM-05-2018-0111
Marques-Neto, José-Castilho; Rosa, Flávia-Garcia (2010). "Editoras universitárias: academia ou mercado? Reflexões sobre um falso problema". En: Bragança, Aníbal; Abreu, Márcia (org.). Impresso no Brasil. Dois séculos de livros brasileiros. São Paulo: Unesp, pp. 331-348. ISBN: 978 8539300518
Menandro, Paulo-Rogério-Meira; Yamamoto, Oswaldo-Hajime; Tourinho, Emmanuel-Zagury; Bastos, Antônio-Virgílio-Bittencourt (2011). "Livros à mão cheia: O livro como veículo de produção acadêmica". Psicologia USP, v. 22, n. 2, pp. 367-386. http://www.scielo.br/pdf/pusp/v22n2/v22n2a05.pdf
Miranda, Elaine-Cristina; Mugnaini, Rogerio (2014). "Estudo exploratório dos critérios de classificação de livros nas áreas de Ciências Sociais Aplicadas, Humanas e Linguística, Letras & Artes". En: Encontro brasileiro de bibliometria e cientometria, 4. Recife: UFPE. http://www.brapci.inf.br/index.php/res/download/55572
Molas-Gallart, Jordi (2015). "Research evaluation and the assessment of public value". Arts and humanities in higher education, v. 14, n. 1, pp. 111-126. https://doi.org/10.1177/1474022214534381
Nederhof, Anton J. (2006). "Bibliometric monitoring of research performance in the social sciences and the humanities: A review". Scientometrics, v. 66, n. 1, pp. 81-100. https://doi.org/10.1007/s11192-006-0007-2
Paolinelli, Sônia-Maria-Rezende; Gaydeczka, Beatriz; Anjo, Luiz-Fernando-Resende-dos-Santos (2019). "As editoras universitárias no contexto da educação superior pública brasileira". Perspectivas em ciência da informação, v. 24, n. 1, pp. 25-38. https://doi.org/10.1590/1981-5344/3134
Rodrigues, Kátia-de-Oliveira; Rosa, Flávia-Goulart; Oliveira, Marlene; Barros, Susane (2018). "O livro no sistema de avaliação da Capes". SciELO 20 years repository, pp. 1-23. https://repository.scielo20.org/documents/article/view/129
Sivertsen, Gunnar (2014). "Scholarly publication patterns in the social sciences and humanities and their coverage in Scopus and Web of Science". En: Noyons, Ed. Proceedings of the science and technology indicators conference. Leiden: Universiteit, pp. 598-604, ISBN: 978 90 817527 1 8 https://zenodo.org/record/2560399#.XSReko-E5RA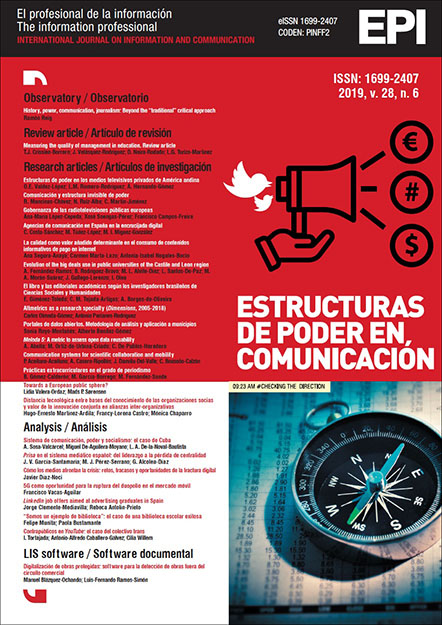 Cómo citar
Giménez-Toledo, E., Tejada-Artigas, C.-M., & Borges-De-Oliveira, A. (2019). El libro y las editoriales académicas según los investigadores brasileños de Ciencias Sociales y Humanidades. Profesional De La Información, 28(6). https://doi.org/10.3145/epi.2019.nov.03
Sección
Artículos de investigación / Research articles
PI da autorización para que los autores de los trabajos publicados en la revista puedan ofrecer en sus webs (personales o corporativos) o en cualquier repositorio de acceso abierto (OA) una copia de esos trabajos una vez hayan transcurrido 6 meses desde su publicación. Junto con esa copia ha de incluirse una mención específica de la publicación en la que ha aparecido el texto, añadiendo además un enlace clicable a la URL: