¿De qué hablamos cuando hablamos de posverdad? Análisis del término en siete diarios de calidad
Palabras clave:
Posverdad, Comunicación polí­tica, Periodismo, Diarios, Redes sociales, Sesgos cognitivos, Epistemologí­a, Posmodernismo, Donald Trump.
Resumen
El uso del término posverdad se ha normalizado como forma de conceptualizar fenómenos polí­ticos y sociales considerados nuevos, como la elección de Trump o el Brexit. Pese a ello, la posverdad es un concepto con un significado poco concreto. Esta investigación se centra en ese problema: plantea un análisis textual de los usos que siete medios hicieron del término "posverdad" durante 2017 (The New York Times, The guardian, The times, Le monde, Le figaro, El paí­s y ABC). Se analizaron 151 artí­culos en los que el uso del término posverdad aportaba pistas para establecer su significado. La investigación aporta dos conclusiones: (a) la posverdad es un concepto de la comunicación polí­tica que plantea un cambio en la relación que la sociedad tiene con la verdad; y (b) es un término con un sesgo polí­tico que se utiliza para designar a un oponente percibido como enemigo del modelo de sociedad.
Descargas
Los datos de descargas todavía no están disponibles.
Citas
Arrieta-Kenna, Ruairí­ (2016). "These are the only 6 newspapers in the country to endorse Donald Trump". Politico magazine, October 25th. https://www.politico.com/magazine/story/2016/10/donald-trump-newspaper-endorsements-214390
Bakir, Vian; McStay, Andrew (2018). "Fake news and the economy of emotions". Digital journalism, v. 6, n. 2, pp. 154-175. https://doi.org/10.1080/21670811.2017.1345645
Carrera, Pilar (2018). "Estratagemas de la posverdad". Revista latina de comunicación social, n. 73, pp. 1469-1482. https://doi.org/10.4185/RLCS-2018-1317
D´Ancona, Matthew (2017). Post truth. The new war on truth and how to fight back. Londres: Ebury Press. ISBN: 978 1 785036873
Dubois, Elizabeth; Blank, Grant (2018). "The echo chamber is overstated: The moderating effect of political interest and diverse media". Information, communication & society, v. 21, n. 5, pp. 729-745. https://doi.org/10.1080/1369118X.2018.1428656
Durandin, Guy (1993). L´information, la désinformation et la réalité. Paris: Presses Universitaires de France. ISBN: 2 13 045475 5
European Commission (2015). A multi-dimensional approach to disinformation. Luxemburg: Publications Office of the European Union. https://publications.europa.eu/en/publication-detail/-/publication/6ef4df8b-4cea-11e8-be1d-01aa75ed71a1
Fí¼rsich, Elfriede (2009). "In defense of textual analysis. Restoring a challenged method for journalism and media studies". Journalism studies, v. 10, n. 2, pp. 238-252. https://doi.org/10.1080/14616700802374050
Hallin, Daniel C.; Mancini, Paolo (2004). Sistemas mediáticos comparados. Tres modelos de relación entre los medios de comunicación y la polí­tica. Barcelona: Editorial Hacer. ISBN: 978 84 96913127
Hearns-Branaman, Jesse-Owen (2016). Journalism and the philosophy of truth. Beyond objectivity and balance. New York: Routledge. ISBN: 978 1 138887459
Hsieh, Hsiu-Fang; Shannon, Sarah E. (2005). "Three approaches to qualitative content analysis". Qualitative health research, v. 15, n. 9, pp. 1277-1288. https://doi.org/10.1177/1049732305276687
Ibáñez, Jordi (ed.) (2017). En la era de la posverdad. 14 ensayos. Barcelona: Calambur. ISBN: 978 84 8394179
Jacquard, Roland (1986). La guerre du mensonge. Histoire secrète de la désinformation. Paris: Librairie Plon. ISBN: 978 2 259015219
Keyes, Ralph (2004). The post-truth era: Dishonesty and deception in contemporary life. New York: St. Martin´s Press. ISBN: 978 0 212306489
Lacy, Stephen; Rosenstiel, Tom (2015). Defining and measuring quality journalism. Rutgers School of Communication and Information. http://mpii.rutgers.edu/wp-content/uploads/sites/129/2015/04/Defining-and-Measuring-Quality-Journalism.pdf
Lewandowsky, Stephan; Ecker, Ullrich K. H.; Cook, John (2017). "Beyond misinformation: Understanding and coping with the "˜post-truth´ era". Journal of applied research in memory and cognition, v. 6, n. 4, pp. 353-369. https://doi.org/10.1016/j.jarmac.2017.07.008
Manjoo, Farhad (2008). True enough: Learning to live in a post-fact society. Hoboken (NJ): Wiley. ISBN: 978 1 620458303
Maras, Steven (2013). Objectivity in journalism. Cambridge: Polity Press. ISBN: 978 0 745663920
Martí­nez-Nicolás, Manuel (2015). "Investigar las culturas periodí­sticas. Propuesta teórica y aplicación al estudio del periodismo polí­tico en España". Revista internacional de comunicación y desarrollo, v. 1, pp. 151-162. http://www.usc.es/revistas/index.php/ricd/article/view/2177
Muñoz-Torres, Juan-Ramón (2012). "Truth and objectivity in journalism. Anatomy of an endless misunderstanding". Journalism studies, v. 13, n. 4, pp. 566-582. https://doi.org/10.1080/1461670X.2012.662401
McIntyre, Lee (2018). Post-truth. Cambridge/London: The MIT Press. ISBN: 978 0 262535045
Oxford Dictionaries (2016). "Oxford dictionaries. Word of the year 2016 is"¦ Post-truth". https://www.oxforddictionaries.com/press/news/2016/12/11/WOTY-16
Ruiz-Caballero, Carlos-Miguel (2015). La digitalización del otro. Los retos de la democracia en la era del ciberespacio. Lérida: Editorial Milenio. ISBN: 978 84 97437028
Schiller, Herbert (1973). Mind managers. Boston: Beacon Press. ISBN: 978 0 807005071
Waisbord, Silvio (2018). "Truth is what happens to news. On journalism, fake news, and post-truth". Journalism studies, v. 19, n. 13. https://doi.org/10.1080/1461670X.2018.1492881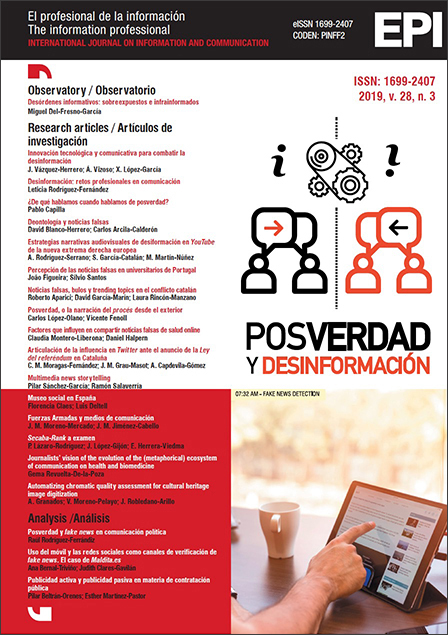 Descargas
Cómo citar
Capilla, P. (2019). ¿De qué hablamos cuando hablamos de posverdad? Análisis del término en siete diarios de calidad. Profesional De La información Information Professional, 28(3). https://doi.org/10.3145/epi.2019.may.09
Sección
Artí­culos de investigación / Research articles
Licencia
Condiciones de difusión de los artí­culos una vez son publicados
Los autores pueden publicitar libremente sus artí­culos en webs, redes sociales y repositorios
Deberán respetarse sin embargo, las siguientes condiciones:
- Solo deberá hacerse pública la versión editorial. Rogamos que no se publiquen preprints, postprints o pruebas de imprenta.
- Junto con esa copia ha de incluirse una mención especí­fica de la publicación en la que ha aparecido el texto, añadiendo además un enlace clicable a la URL: http://www.profesionaldelainformacion.com
La revista Profesional de la información ofrece los artí­culos en acceso abierto con una licencia Creative Commons BY.