Consumption of public institutions' open data by Spanish citizens
Palabras clave:
Open data, Public institutions, Transparency, Empowerment, Digital citizenship.
Resumen
The consumption practices of Spanish citizens of open data published by public institutions are evaluated, within the context of the implementation of the Transparency Portal in Spain. Through an online survey, representative of the studied universe, and through an analysis of descriptive statistics, contingency tables and association measures for nominal variables, the degree of awareness about the availability of open data offered by public bodies are compared, their use is described, and reasons for their use are identified. The results reveal low penetration of the open data culture, and citizen distrust of the actions carried out by public institutions for the access, use, and reuse of open data, which will require a change of orientation in communication and stimulation policies.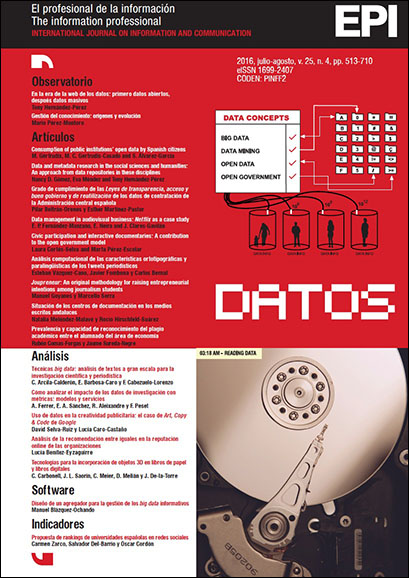 Descargas
Cómo citar
Gértrudix, M., Gertrudis-Casado, M.-C., & Álvarez-García, S. (2016). Consumption of public institutions' open data by Spanish citizens. Profesional De La Información, 25(4), 535–544. https://doi.org/10.3145/epi.2016.jul.03
Sección
Artículos de investigación / Research articles
Licencia
EPI da autorización para que los autores de los trabajos publicados en la revista puedan ofrecer en sus webs (personales o corporativos) o en cualquier repositorio de acceso abierto (OA) una copia de esos trabajos una vez hayan transcurrido 6 meses desde su publicación. Junto con esa copia ha de incluirse una mención específica de la publicación en la que ha aparecido el texto, añadiendo además un enlace clicable a la URL:
Descargas
La descarga de datos todavía no está disponible.