Regional and global science: Publications from Latin America and the Caribbean in the SciELO Citation Index and the Web of Science
Palabras clave:
Journals, Databases, Index, SciELO, WoS, Web of Science, Latin America, Caribbean.
Resumen
In this article the authors compare the visibility of Latin American and Caribbean (LAC) publications in the Core Collection indexes of the Web of Science (WoS) inlcuding Science Citation Index Expanded, Social Sciences Citation Index, and Arts & Humanities Citation Index, and the SciELO Citation Index (SciELO CI) which was integrated into the larger WoS platform in 2014. The purpose of this comparison is to contribute to the broader understanding of the communication of scientific knowledge produced in Latin America and the Caribbean, and to provide some reflections on the potential benefits of the articulation of regional indexing exercises into WoS for a better understanding of geographic and disciplinary contributions. How is the regional level of SciELO CI related to the global range of WoS? In WoS, LAC authors are integrated at the global level in international networks, while SciELO has provided a platform for interactions among LAC researchers. The articulation of SciELO into WoS may improve the international visibility of the regional journals, but at the cost of own journal inclusion criteria independence.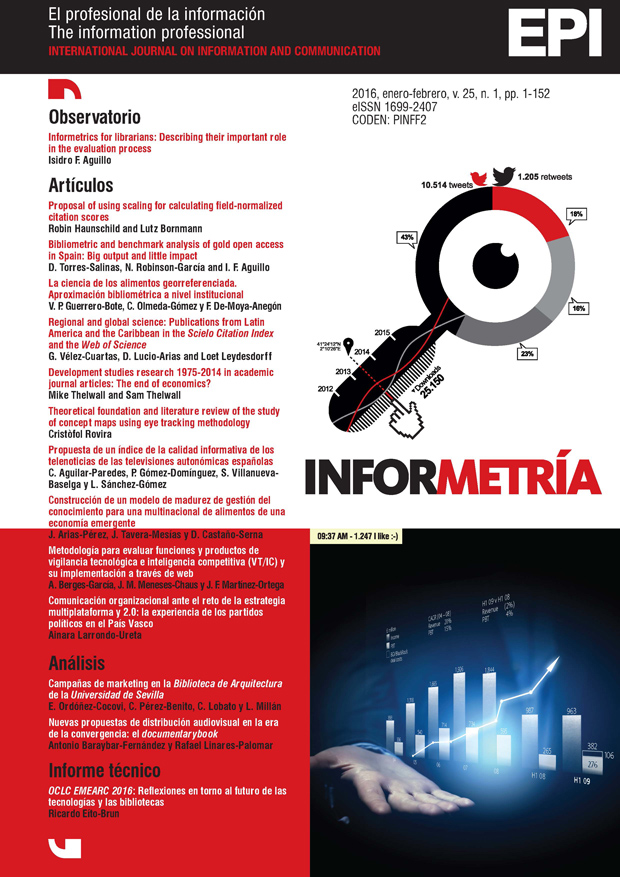 Descargas
Cómo citar
Vélez-Cuartas, G., Lucio-Arias, D., & Leydesdorff, L. (2016). Regional and global science: Publications from Latin America and the Caribbean in the SciELO Citation Index and the Web of Science. Profesional De La información, 25(1), 35–46. https://doi.org/10.3145/epi.2016.ene.05
Sección
Artículos de investigación / Research articles
Licencia
Condiciones de difusión de los artículos una vez son publicados
Los autores pueden publicitar sus artículos de acuerdo con estos términos:
Pasadas 2 semanas desde la publicación (tiempo necesario para que Google indexe la versión de la web de la revista), los autores pueden ofrecer en sus webs (personales o institucionales) o en cualquier repositorio de acceso abierto (OA) una copia del trabajo publicado por EPI. Deberán respetarse sin embargo, las siguientes condiciones:
- Solo deberá hacerse pública la versión editorial. Rogamos que no se publiquen preprints, postprints o pruebas de imprenta.
- Junto con esa copia ha de incluirse una mención específica de la publicación en la que ha aparecido el texto, añadiendo además un enlace clicable a la URL: http://www.profesionaldelainformacion.com
La revista Profesional de la información ofrece los artículos en acceso abierto con una licencia Creative Commons BY 
.
Descargas
La descarga de datos todavía no está disponible.