Informetrics for librarians: Describing their important role in the evaluation process
Palabras clave:
Informetrics, Librarians, Scientific evaluation, Relative indicators.
Resumen
Librarians are playing a secondary role in the process of evaluating research activities, usually as auxiliary providers of raw data extracted from pre-selected sources. Given the subjective nature of the decision committees, there is a strong need for unbiased and objective procedures guaranteed by independent professionals. A neutral, comprehensive, modern, quantitative approach guided by academic librarians is proposed, including closeness to applicants, anonymity of their identities in the reports, contextualization (academic age, gender, and discipline) of data, usage of relative non-central values with indication of thresholds, and incorporation of new bibliometric and non-bibliometric sources.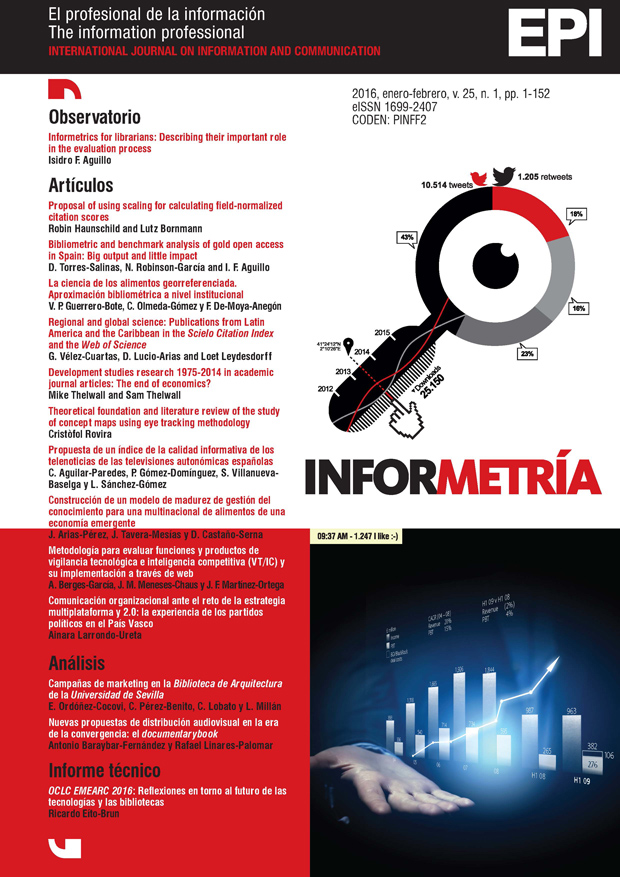 Descargas
Cómo citar
Aguillo, I. F. (2016). Informetrics for librarians: Describing their important role in the evaluation process. Profesional De La información, 25(1), 5–10. https://doi.org/10.3145/epi.2016.ene.01
Licencia
Condiciones de difusión de los artículos una vez son publicados
Los autores pueden publicitar libremente sus artículos en webs, redes sociales y repositorios
Deberán respetarse sin embargo, las siguientes condiciones:
- Solo deberá hacerse pública la versión editorial. Rogamos que no se publiquen preprints, postprints o pruebas de imprenta.
- Junto con esa copia ha de incluirse una mención específica de la publicación en la que ha aparecido el texto, añadiendo además un enlace clicable a la URL: http://www.profesionaldelainformacion.com
La revista Profesional de la información ofrece los artículos en acceso abierto con una licencia Creative Commons BY.
Descargas
La descarga de datos todavía no está disponible.