Studies and analysis of reference management software: A literature review
Palabras clave:
Reference management software, Reference managers, Citation managers, Bibliography database managers, Bibliographic software, Citation management tools, Evaluation methods, Bibliography, Review.
Resumen
Reference management software is a well-known tool for scientific research work. Since the 1980s, it has been the subject of reviews and evaluations in library and information science literature. This paper presents a systematic review of published studies that evaluate reference management software with a comparative approach. The objective is to identify the types, models, and evaluation criteria that authors have adopted, in order to determine whether the methods used provide adequate methodological rigor and useful contributions to the field of study.
Descargas
Los datos de descargas todavía no están disponibles.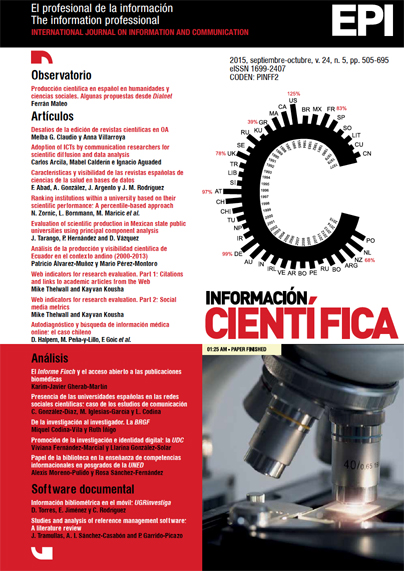 Descargas
Cómo citar
Tramullas, J., Sánchez-Casabón, A. I., & Garrido-Picazo, P. (2015). Studies and analysis of reference management software: A literature review. Profesional De La información Information Professional, 24(5), 680–688. https://doi.org/10.3145/epi.2015.sep.17
Sección
Software documental / Information management software
Licencia
Condiciones de difusión de los artí­culos una vez son publicados
Los autores pueden publicitar libremente sus artí­culos en webs, redes sociales y repositorios
Deberán respetarse sin embargo, las siguientes condiciones:
- Solo deberá hacerse pública la versión editorial. Rogamos que no se publiquen preprints, postprints o pruebas de imprenta.
- Junto con esa copia ha de incluirse una mención especí­fica de la publicación en la que ha aparecido el texto, añadiendo además un enlace clicable a la URL: http://revista.profesionaldelainformacion.com
La revista Profesional de la información ofrece los artí­culos en acceso abierto con una licencia Creative Commons BY.