Information reuse in smart cities' ecosystems
Palabras clave:
Information reuse, Smart cities, Datasets, Applications, Apps, Open government.
Resumen
Smart cities are service providers as well as sources of public data. The reuse of cities' data through the application of technology enables the creation of innovative services for citizens. Apps, developed by reusing information, are considered a key indicator for the creation of services. This paper explores the main characteristics of these apps and their relationship to services. The analysis performed in the main smart cities in Europe shows the importance of timely information release and the geo-location of published data. Transport and tourism seem to be the most popular areas of application. This article builds on the area of research in previous studies and includes additional information of apps' characteristics to meet service needs.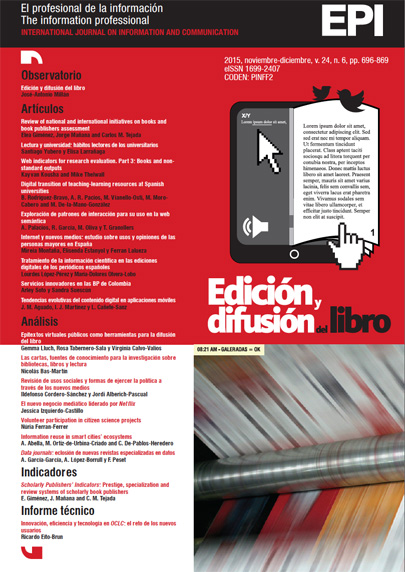 Descargas
Cómo citar
Abella, A., Ortiz-de-Urbina-Criado, M., & De-Pablos-Heredero, C. (2015). Information reuse in smart cities' ecosystems. Profesional De La Información, 24(6), 838–844. https://doi.org/10.3145/epi.2015.nov.16
Sección
Análisis / Analysis
Licencia
EPI da autorización para que los autores de los trabajos publicados en la revista puedan ofrecer en sus webs (personales o corporativos) o en cualquier repositorio de acceso abierto (OA) una copia de esos trabajos una vez hayan transcurrido 6 meses desde su publicación. Junto con esa copia ha de incluirse una mención específica de la publicación en la que ha aparecido el texto, añadiendo además un enlace clicable a la URL:
Descargas
La descarga de datos todavía no está disponible.