New data, new possibilities: Exploring the insides of Altmetric.com
Palabras clave:
Altmetric.com, Twitter, Mendeley, Altmetrics, Social impact, Coverage, Web 2.0
Resumen
This paper analyzes Altmetric.com, one of the most important altmetric data providers currently used. We have analyzed a set of publications with doi number indexed in the Web of Science during the period 2011-2013 and collected their data with the Altmetric API. 19% of the original set of papers was retrieved from Altmetric.com including some altmetric data. We identified 16 different social media sources from which Altmetric.com retrieves data. However five of them cover 95.5% of the total set. Twitter (87.1%) and Mendeley (64.8%) have the highest coverage. We conclude that Altmetric.com is a transparent, rich and accurate tool for altmetric data. Nevertheless, there are still potential limitations on its exhaustiveness as well as on the selection of social media sources that need further research.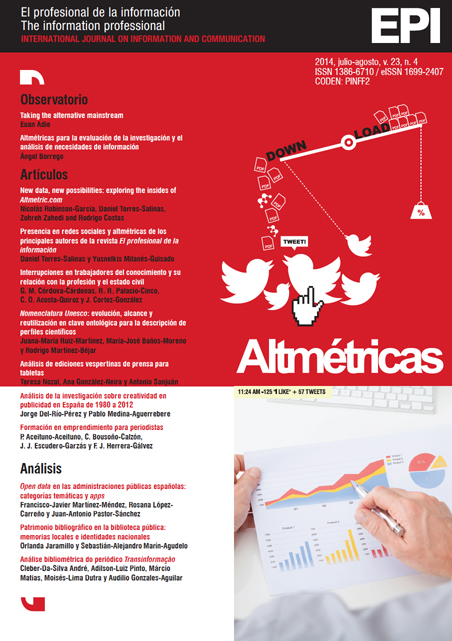 Descargas
Cómo citar
Robinson-García, N., Torres-Salinas, D., Zahedi, Z., & Costas, R. (2014). New data, new possibilities: Exploring the insides of Altmetric.com. Profesional De La información, 23(4), 359–366. https://doi.org/10.3145/epi.2014.jul.03
Sección
Artículos de investigación / Research articles
Licencia
Condiciones de difusión de los artículos una vez son publicados
Los autores pueden publicitar sus artículos de acuerdo con estos términos:
Pasadas 2 semanas desde la publicación (tiempo necesario para que Google indexe la versión de la web de la revista), los autores pueden ofrecer en sus webs (personales o institucionales) o en cualquier repositorio de acceso abierto (OA) una copia del trabajo publicado por EPI. Deberán respetarse sin embargo, las siguientes condiciones:
- Solo deberá hacerse pública la versión editorial. Rogamos que no se publiquen preprints, postprints o pruebas de imprenta.
- Junto con esa copia ha de incluirse una mención específica de la publicación en la que ha aparecido el texto, añadiendo además un enlace clicable a la URL: http://www.profesionaldelainformacion.com
La revista Profesional de la información ofrece los artículos en acceso abierto con una licencia Creative Commons BY 
.
Descargas
La descarga de datos todavía no está disponible.