Teachers in a world of information: Detecting false information
Palabras clave:
Media literacy, Disinformation, Misinformation, Hoaxes, Fake news, Conspiracy theories, Fact-checking, False information, Teachers, Educators, Czech Republic, Surveys, Primary schools, Secondary schools, European Union, Covid-19
Resumen
The media have advanced rapidly in recent years, bringing with them new challenges, such as the need to acquire adequate training to be successful in today´s global world. Since anyone can participate in public media communication, misinformation is an element that shapes today´s society. This article focuses on the extent to which Czech teachers believe fake news and conspiracy theories. We conducted an online survey with a total of 2,155 teachers from all regions of the Czech Republic. The teachers assessed a total of 34 statements divided into three thematic groups: statements related to the European Union, statements related to the Covid-19 disease pandemic and statements focusing on well-known historical, cultural and social phenomena. More than half (61.14%) of Czech teachers were able to correctly judge the truthfulness of statements. Nevertheless, 15.59% of Czech teachers admit that they are not able to assess the statements in a relevant way, and only 10.41% believed some of the fake news or conspiration theories. 
Descargas
Los datos de descargas todavía no están disponibles.
Citas
Barkun, Michael (2012). "New world order conspiracies: the new world order and the illuminati". In: Barkun, Michael. A culture of conspiracy apocalyptic visions in contemporary America. California Scholarship Online, pp. 39-64. ISBN: 978 0 520238053 https://doi.org/10.1525/california/9780520238053.003.0003
Bell, Bethan (2016). "Taken from life: the unsettling art of death photography". BBC news, 5 June. https://www.bbc.com/news/uk-england-36389581
Biryukov, Vladislav (2015). "Fact or fiction? Reversing your PIN can call the police in an emergency". Kaspersky official blog, November 16. https://www.kaspersky.com/blog/fact-or-fiction-inverted-pin-code/10559
Ciroková, Kristí½na (2022). "Potrestejte žáka, co mÄ› nahrál, žádá uÄitelka, která Å¡í­Å™ila dezinformace". Seznam zprávy. https://www.seznamzpravy.cz/clanek/domaci-kauzy-potrestejte-zaka-co-me-nahral-zada-ucitelka-ktera-sirila-dezinformace-198997
Daňková, Å árka; Zvolskí½, Miroslav; DuÅ¡ek, Ladislav (2020). Mortalitní­ data, kódování­ a vymezení­ umrtí­ na Covid-19. Strana 2 z 11. https://onemocneni-aktualne.mzcr.cz/doc/zemreli-COVID-19-metodicky-rozbor.pdf
Erhart, Michal; KropáÄková, Renata (2018). "Neziskovky jako terÄ? Podle Volného vymí½vají­ dÄ›tem mozky, pomáhají­ tam, kde stát zaspal, oponuje Gajdůšková". Irozhlas. https://www.irozhlas.cz/zpravy-domov/lubomir-volny-spd-alena-gajduskova-cssd_1808081346_haf
Evropská komise (2021). "Eurobarometr 2021: důvÄ›ra Äechů v EU je nejvyÅ¡Å¡í­ od roku 2013". Business INFO. Cz. https://www.businessinfo.cz/clanky/eurobarometr-2021-duvera-cechu-v-eu-je-nejvyssi-od-roku-2013
Evropská komise (2023). Evropskí½ rok dovedností­ 2023. https://ec.europa.eu/czech-republic/news/euromyty_cs
Goda, Jakub (2019). "Hlavné správy a Zem a vek patria podľa prieskumu medzi najdí´veryhodnejÅ¡ie médiá medzi uÄiteľmi". Rubriky. https://dennikn.sk/blog/1571691/hlavne-spravy-a-zem-a-vek-patria-podla-prieskumu-focusu-medzi-najdoveryhodnejsie-media-medzi-ucitelmi/?ref=in
Godwin, Richard (2019). "One giant"¦ lie? Why so many people still think the Moon landings were faked". The Guardian, 10 July. https://www.theguardian.com/science/2019/jul/10/one-giant-lie-why-so-many-people-still-think-the-moon-landings-were-faked
Gritton, Jim (2017). "Wagner and the trope of the horned helmet". https://www.researchgate.net/publication/335219184_Wagner_and_the_Trope_of_the_Horned_Helmet
Grogan, Joelle (2022). "The impact of Covid-19 measures on democracy, the rule of law and fundamental rights". Think tank. https://www.europarl.europa.eu/thinktank/en/document/IPOL_STU(2022)734010
Havrilesky, Thomas (1972). "The information explosion, technological innovativeness and the competitive ethic". Land economics, v. 48, n. 4, pp. 347-356. https://doi.org/10.2307/3145311
Hoaxes.org (2006). "How to cook an egg with two cell phones". Hoaxes.org, February 7. http://hoaxes.org/weblog/comments/how_to_cook_an_egg_with_two_cell_phones
Irozhlas (2021). "ÄŒesko z RozpoÄtu EU zí­skalo o 38,7 miliardy ví­ce, než do nÄ›j odvedlo. Zůstalo tak Äistí½m pÅ™í­jemcem penÄ›z". Irozhlas, 29, Äervence. https://www.irozhlas.cz/ekonomika/eu-rozpocet-ministerstvo-financi-alena-schillerova-strukturalni-fondy_2107291544_ere
Islam, Md-Saiful; Sarkar, Tonmoy; Khan, Sazzad-Hossain; Kamal, Abu-Hena-Mostofa; Hasan, S. M. Murshid; Kabir, Alamgir; Yeasmin, Dalia; Islam, Mohammad-Ariful; Amin-Chowdhury, Kamal-Ibne; Anwar, Kazi-Selim; Chughtai, Abrar-Ahmad; Seale, Holly (2020). "Covid-19 related infodemic and its impact on public health: A global social media analysis". The American journal of tropical medicine and hygiene, v. 103, n. 4, pp. 1621-1629. https://doi.org/10.4269/ajtmh.20-0812
Jadrní½, Petr (2020). "NeÅ¡li na test, pÅ™esto dostali SMS, že jsou pozitivní­. "šje to absolutní­ nesmysl,"˜ Å™ekla o hoaxu jágrová". IRozhlas, 1. Ří­jna. https://www.irozhlas.cz/zpravy-domov/hoax-koronaviru-v-cesku-sms-chyb_2010010746_pj
Jirák, Jan; Šťastná Lucie, Zezulková, Markéta (2018). Mediální­ ví½chova jako průřezové téma. Praha. https://www.npi.cz/images/podkladov%C3%A1_studie/medialni_vychova.pdf
Kopeckí½, Kamil; Szotkowski, René; VoráÄ, Dominik; Mikulcov, Klára; KrejÄí­, Veronika (2021). Czech teachers in the world of media. Olomouc: Palackí½ University in Olomouc.
Link, Devon (2019). "Fact check: Moon landing conspiracy theory misrepresents footprint". USA Today. News. https://eu.usatoday.com/story/news/factcheck/2021/09/17/fact-check-moon-landing-conspiracy-theory-misrepresents-footprint/8380230002
Llanes-Álvarez, Carlos; San-Roman-Urí­a, Alberto; Nunes-Nancabu Paulo; Ruiz-Gippini, Marí­a; López-Landeiro, Patricia; Franco-Martí­n, Manuel-Ángel (2016). "Chemtrails: an overview of the phenomenon". European psychiatry, v. 33, n. S1, pp. 450-450. https://doi.org/10.1016/j.eurpsy.2016.01.1635
McIlvenna, Una (2021). "Was Napoleon short? Origins of the "˜Napoleon complex´". History.Com. https://www.history.com/news/napoleon-complex-short
Mendes, Claudia (2019). "The irony - Nobel Peace Prize nominees included Hitler, Stalin and Mussolini". War history online, February 24. https://www.warhistoryonline.com/instant-articles/nobel-peace-prize-nominees.html
Modrako, Alicia (2020). "Exkluzí­vny prieskum medzi uÄiteľmi: Nedí´verujú vláde a mnohí­ si myslia, že sa chystá ÄipovaÅ¥ ľudí­".
Nutil, Petr (2016). "Hoax: EU chce zruÅ¡it pí­smeno Ř". ManipulátoÅ™i.Cz. https://manipulatori.cz/hoax-eu-chce-zrusit-pismeno-r
O´Brien, Joseph (2019). "Tiger tanks & tea: The British cup of char in war". War history online, 10 March. https://www.warhistoryonline.com/world-war-ii/tiger-tanks-tea-the-british-cup.html
Sardarizadeh, Shayan (2021). "11 September 2001: The conspiracy theories still spreading after 20 years". BBC news, 10 September. https://www.bbc.com/news/58469600
Tollefson, Jeff (2021). "Tracking QAnon: How Trump turned conspiracy theory research upside down". Nature, v. 590, n. 7845, pp. 192-193. https://doi.org/10.1038/D41586-021-00257-Y
WHO (2023). Infodemic. World Health Organization. https://www.who.int/health-topics/infodemic#tab=tab_1
Xiao, Sijia; Cheshire, Coye; Bruckman, Amy (2021). "Sensemaking and the chemtrail conspiracy on the Internet: insights from believers and ex-believers". Proceedings of the ACM on human computer interaction, v. 5, n. 454. https://doi.org/10.1145/3479598
Zastoupení­ Evropské komise v ÄŒR (2016a) "Euromí½tus: Brusel nám zakázal žárovky". Euroactiv, 29 August. https://euractiv.cz/section/energeticka-ucinnost/news/euromytus-brusel-nam-zakazal-zarovky
Zastoupení­ Evropské komise v ÄŒR (2016b). "Euromí½tus: konec zabijaÄek v Äechách - euractiv.Cz". Euroactiv, 9 December. https://euractiv.cz/section/cr-v-evropske-unii/news/euromytus-konec-zabijacek-v-cechach
Zheng, Min; Marsh, Jessecae K.; Nickerson, Jeffrey; Kleinberg, Samantha (2020) "How causal information affects decisions". Cognitive research: Principles and implications, n. 5. https://doi.org/10.1186/s41235-020-0206-z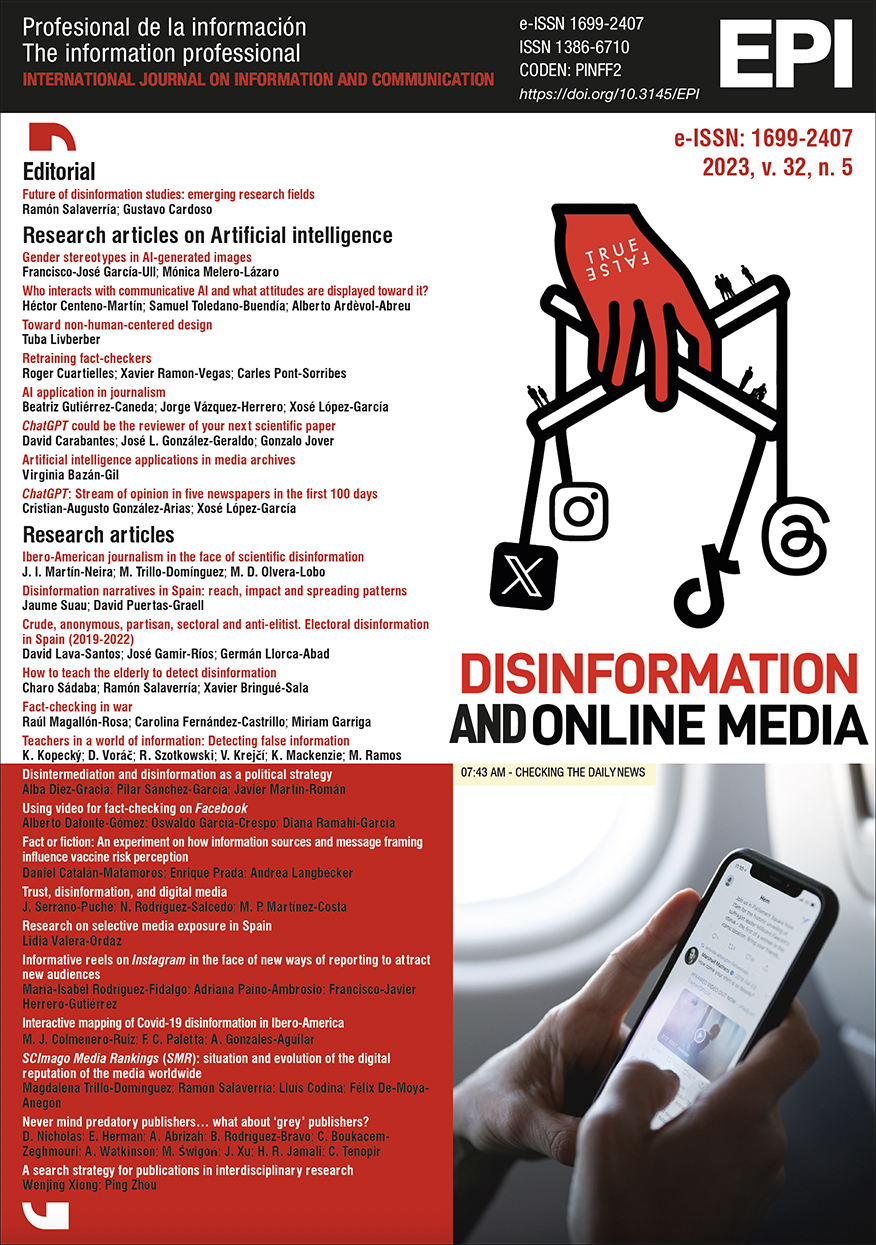 Descargas
Cómo citar
Kopecký, K., Voráč, D., Szotkowski, R., Krejčí, V., Mackenzie, K., & Ramos-Navas-Parejo, M. (2023). Teachers in a world of information: Detecting false information. Profesional De La información Information Professional, 32(5). https://doi.org/10.3145/epi.2023.sep.01
Sección
Artí­culos de investigación / Research articles
Licencia
Derechos de autor 2023 Profesional de la información
Esta obra está bajo una licencia internacional Creative Commons Atribución 4.0.
Condiciones de difusión de los artí­culos una vez son publicados
Los autores pueden publicitar libremente sus artí­culos en webs, redes sociales y repositorios
Deberán respetarse sin embargo, las siguientes condiciones:
- Solo deberá hacerse pública la versión editorial. Rogamos que no se publiquen preprints, postprints o pruebas de imprenta.
- Junto con esa copia ha de incluirse una mención especí­fica de la publicación en la que ha aparecido el texto, añadiendo además un enlace clicable a la URL: http://www.profesionaldelainformacion.com
La revista Profesional de la información ofrece los artí­culos en acceso abierto con una licencia Creative Commons BY.