Lethe and aletheia: a study on cases of sexual harassment towards public library staff in Spain
Palabras clave:
Public libraries, Library staff, Sexual harassment, Legislation, Institutional support, Improvement proposals, Social capital, Human capital, Cultural capital, Spain
Resumen
The results of a study on cases of sexual harassment towards public library staff in Spain are presented, with three objectives: to determine through a survey the experiences of harassment according to its type and perpetrator, to assess whether there was institutional support, and to formulate proposals for the improvement and solution of this problem. The main results reveal the multiple situations of sexual harassment being committed mainly by users, but also by colleagues and superiors, that women suffered most from harassment, and that sufficient institutional support is not given for the prevention and/or correction of such cases. The bodies of public institutions responsible for the problem of harassment in the library field must present proposals to prevent and protect against harassment and thereby enable its prevention and eradication. Considering libraries also as places related to social, human, and cultural assets, it must be ensured that they are free from sexual harassment. Given that no previous works were identified on the subject analyzed, this can be considered the first study focusing on sexual harassment towards library personnel in Spain, thus providing a basis for future work on this topic.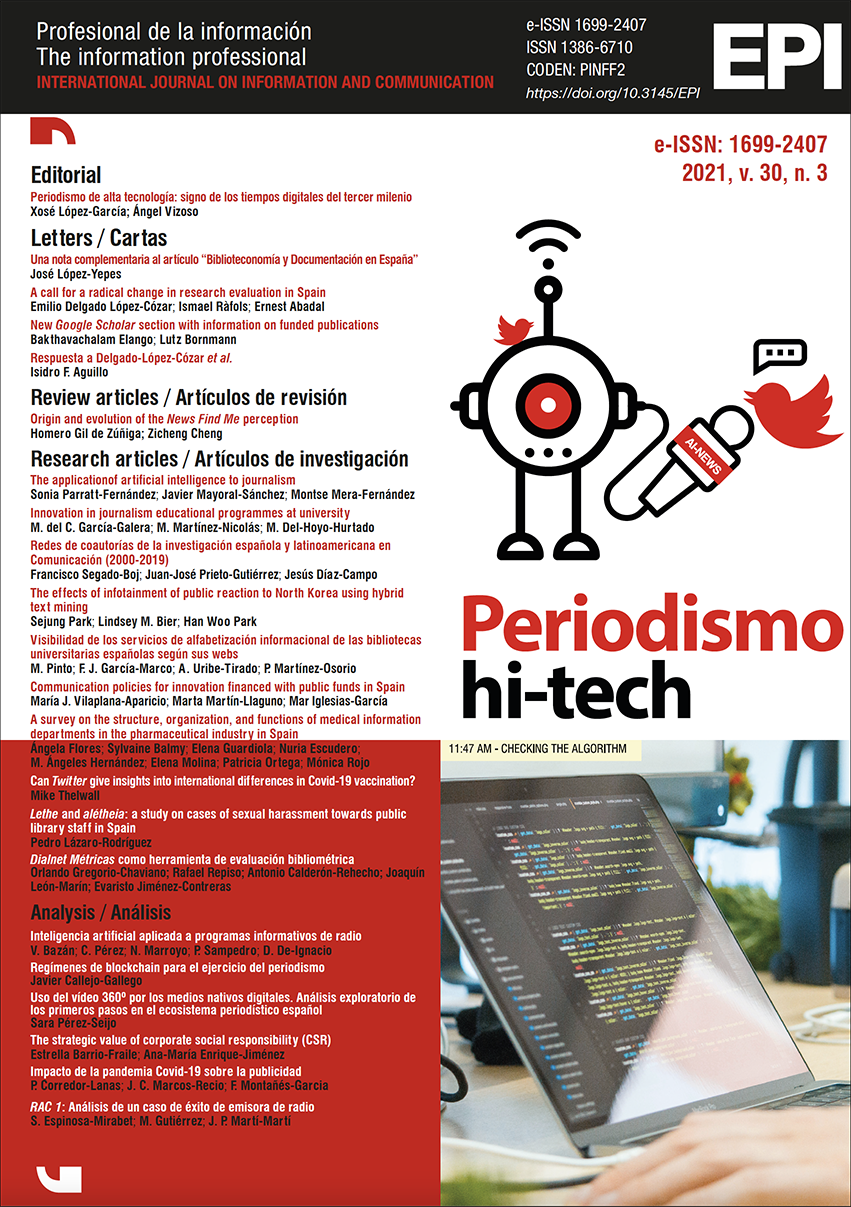 Descargas
Cómo citar
Lázaro-Rodríguez, P. (2021). Lethe and aletheia: a study on cases of sexual harassment towards public library staff in Spain. Profesional De La información, 30(3). https://doi.org/10.3145/epi.2021.may.19
Sección
Artículos de investigación / Research articles
Licencia
Condiciones de difusión de los artículos una vez son publicados
Los autores pueden publicitar sus artículos de acuerdo con estos términos:
Pasadas 2 semanas desde la publicación (tiempo necesario para que Google indexe la versión de la web de la revista), los autores pueden ofrecer en sus webs (personales o institucionales) o en cualquier repositorio de acceso abierto (OA) una copia del trabajo publicado por EPI. Deberán respetarse sin embargo, las siguientes condiciones:
- Solo deberá hacerse pública la versión editorial. Rogamos que no se publiquen preprints, postprints o pruebas de imprenta.
- Junto con esa copia ha de incluirse una mención específica de la publicación en la que ha aparecido el texto, añadiendo además un enlace clicable a la URL: http://www.profesionaldelainformacion.com
La revista Profesional de la información ofrece los artículos en acceso abierto con una licencia Creative Commons BY 
.
Descargas
La descarga de datos todavía no está disponible.