Politicians on Social Media. The online database of members of national parliaments on Twitter
Palabras clave:
Twitter, Social media, Politicians, Legislators, Twitter adoption, Social media adoption, Members of parliaments, Parliaments, Political communication, Elections, Europe, Communication, Social networws
Resumen
In this article, we present the new online database Politicians on Social Media (https://www.politiciansonsocialmedia.com), which is intended for both academics and the public. This database was created with the aim of being continuously updated and providing relevant information on politicians' activity on social media. We first used data from this database to analyze Twitter. This social networking site is increasingly at the forefront of scientific interest due to its growing number of users. It is often examined with respect to how politicians use it. For politicians, Twitter is an opportunity not only to inform people about their activities but also to communicate directly with voters. Attention is focused on members of parliaments (MPs). We examine not only how many MPs have adopted Twitter but also how active they are on it. We also examine the determinants of Twitter adoption by MPs. We analyzed all countries of the European Union, the European Free Trade Association, and the United Kingdom. Therefore, the research includes 32 European countries. Our analysis revealed that most MPs have adopted Twitter in Western European countries such as France, Ireland, the Netherlands, Spain, or the United Kingdom, while MPs in Bulgaria, Hungary, Romania, and Slovakia use Twitter the least. Twitter is very actively used by Spanish and British MPs. By contrast, the least active MPs on Twitter are in post-communist countries such as Bulgaria and Romania. Our correlation analysis showed a strong association between the number of Twitter users in countries and the adoption of Twitter by MPs. Specifically, more Twitter users in a country correlates with its being adopted by more MPs.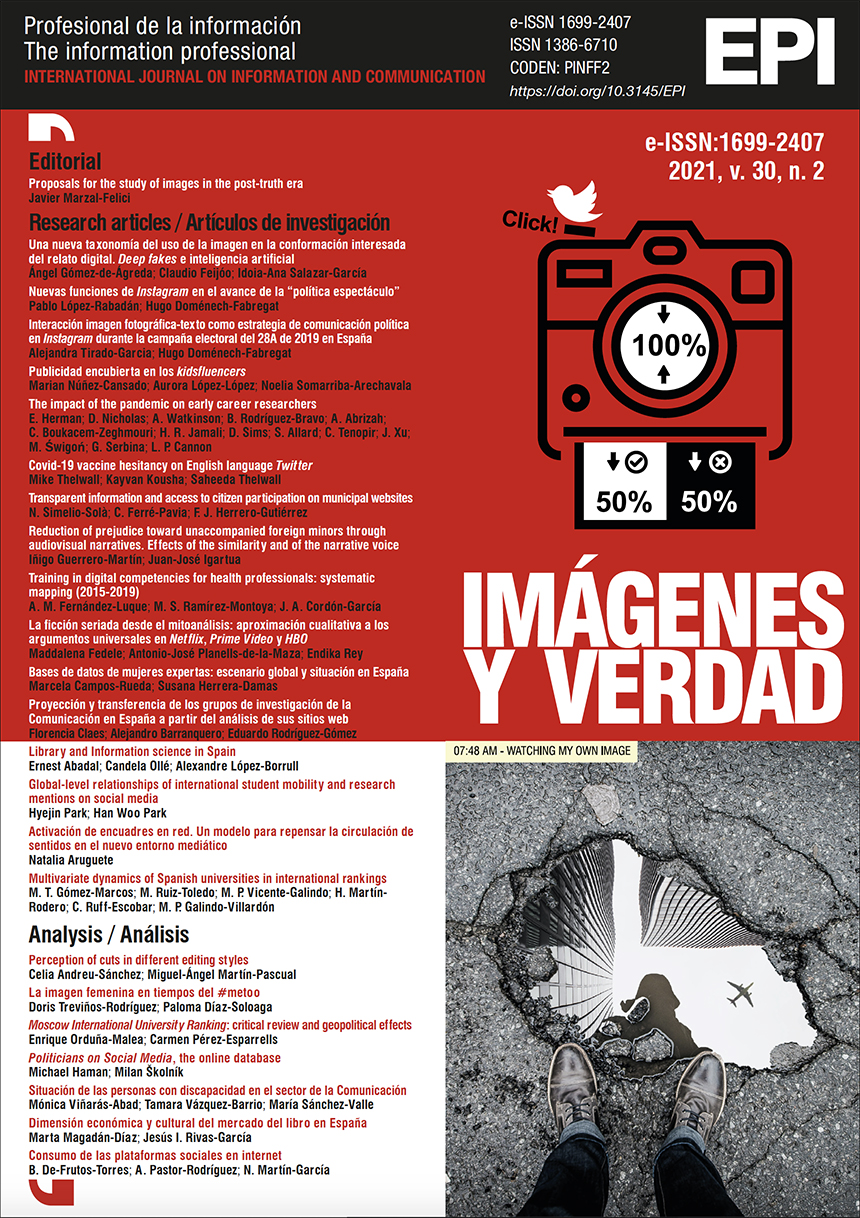 Descargas
Cómo citar
Haman, M., & Školník, M. (2021). Politicians on Social Media. The online database of members of national parliaments on Twitter. Profesional De La información, 30(2). https://doi.org/10.3145/epi.2021.mar.17
Sección
Análisis / Analysis
Licencia
Condiciones de difusión de los artículos una vez son publicados
Los autores pueden publicitar libremente sus artículos en webs, redes sociales y repositorios
Deberán respetarse sin embargo, las siguientes condiciones:
- Solo deberá hacerse pública la versión editorial. Rogamos que no se publiquen preprints, postprints o pruebas de imprenta.
- Junto con esa copia ha de incluirse una mención específica de la publicación en la que ha aparecido el texto, añadiendo además un enlace clicable a la URL: http://www.profesionaldelainformacion.com
La revista Profesional de la información ofrece los artículos en acceso abierto con una licencia Creative Commons BY.
Descargas
La descarga de datos todavía no está disponible.