The strategic value of corporate social responsibility CSR: the present and future of its management
Palabras clave:
Corporate communication, Organizational communication, CSR, Corporate social responsibility, Sustainability, CSR director, Cross-cutting CSR, Strategic CSR, Stakeholder dialogue, Management, SME, Delphi, Covid-19, Pandemics, SDG
Resumen
Corporate social responsibility (CSR) has become the central theme of many debates on the role of organizations in society in recent years. The voluntary incorporation of strategies that influence economic profitability and in turn social and environmental issues is already a reality in companies. This article has several aims: (1) to analyse whether CSR is strategic and cross-cutting for companies and whether there exists a true dialogue between companies and stakeholders; (2) to identify the functions, relationships and quality of CSR or sustainability directors; (3) to determine the main challenges for the future; (4) to reflect on the impact that Covid-19 has had on the development of CSR in businesses. The study was based on the Delphi method and employed a sample of 20 experts: 10 academics (lecturers and researchers) and 10 professionals (communication and CSR directors, and CSR and reputation consultants). The results reveal that: (1) with the exception of SMEs, CSR management in companies is strategic and cross-cutting; (2) there is no reciprocal dialogue between companies and stakeholders; (3) the functions carried out by CSR directors can be classified as analytical, strategic, tactical and communicative; (4) the most outstanding qualities of the CSR director are communication skills, deep knowledge of the company and a willingness to work as part of a team; (5) the main challenge for senior management for the future is to be more strategic; (6) Covid-19 has changed the focus in CSR areas of action and in the prioritization of stakeholders. In short, we conclude that CSR management is well rooted in companies and represents a true transformation for businesses as social entities.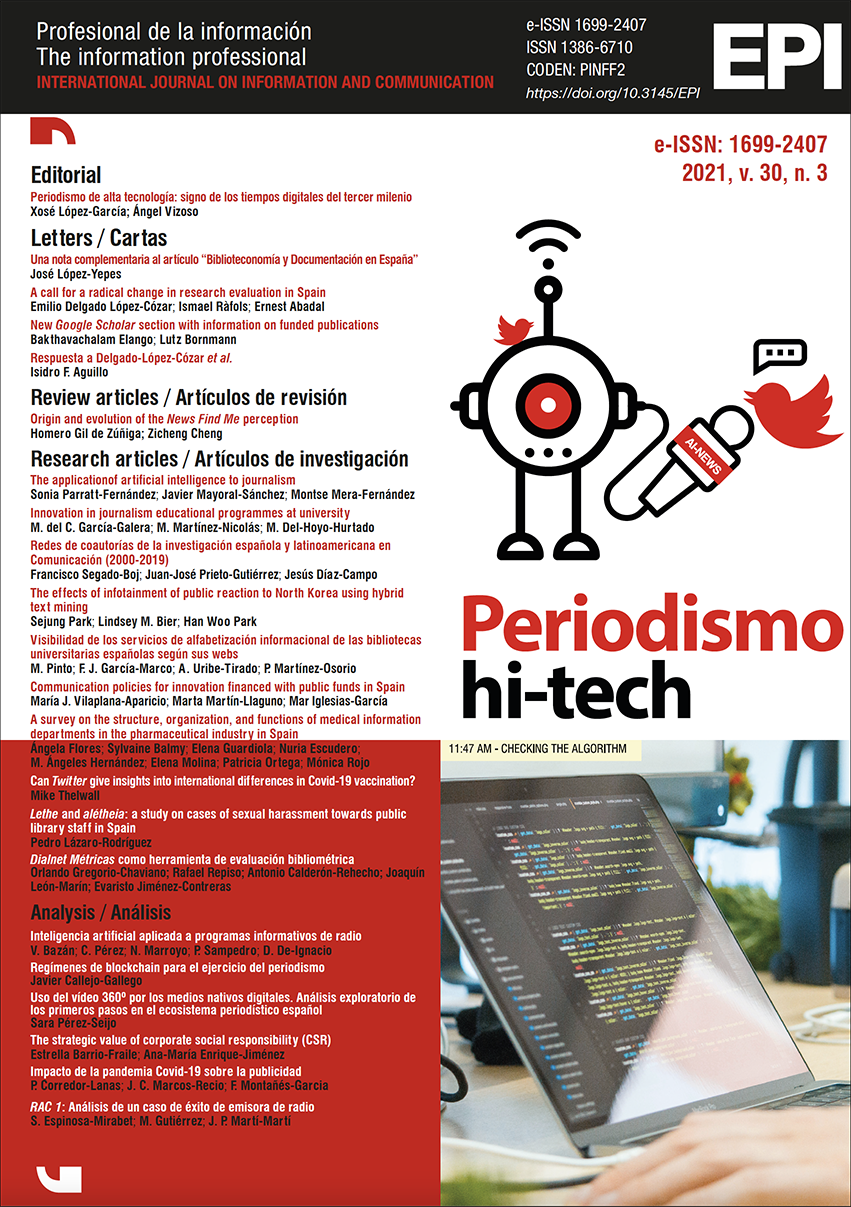 Descargas
Cómo citar
Barrio-Fraile, E., & Enrique-Jiménez, A.-M. (2021). The strategic value of corporate social responsibility CSR: the present and future of its management. Profesional De La información, 30(3). https://doi.org/10.3145/epi.2021.may.12
Sección
Análisis / Analysis
Licencia
Condiciones de difusión de los artículos una vez son publicados
Los autores pueden publicitar sus artículos de acuerdo con estos términos:
Pasadas 2 semanas desde la publicación (tiempo necesario para que Google indexe la versión de la web de la revista), los autores pueden ofrecer en sus webs (personales o institucionales) o en cualquier repositorio de acceso abierto (OA) una copia del trabajo publicado por EPI. Deberán respetarse sin embargo, las siguientes condiciones:
- Solo deberá hacerse pública la versión editorial. Rogamos que no se publiquen preprints, postprints o pruebas de imprenta.
- Junto con esa copia ha de incluirse una mención específica de la publicación en la que ha aparecido el texto, añadiendo además un enlace clicable a la URL: http://www.profesionaldelainformacion.com
La revista Profesional de la información ofrece los artículos en acceso abierto con una licencia Creative Commons BY 
.
Descargas
La descarga de datos todavía no está disponible.