Trabajar con datos abiertos en tiempos de alarma: el caso de uso de covidDATA-19
Palabras clave:
COVID-19, covidDATA-19, datos abiertos, España, Datadista, datos sanitarios
Resumen
Ante la situación de pandemia global provocada por la COVID-19 se necesitan con urgencia datos uniformes que permitan la toma de decisiones rápida, así­ como mantener informada a la población. covidDATA-19 es un caso de uso de datos abiertos para España que presenta visualizaciones interactivas y la posibilidad de descargar los datos filtrados según las elecciones del usuario. Ha puesto de manifiesto la escasez de fuentes oficiales fácilmente reutilizables y la fragilidad de la confianza en los datos en estos momentos de crisis.
Descargas
Los datos de descargas todavía no están disponibles.
Citas
Anastassopoulou, Cleo; Russo, Lucia; Tsakris, Athanasios; Siettos, Constantinos (2020). "Data-based analysis, modelling and forecasting of the Covid-19 outbreak". PLoS one, v. 15, n. 3. https://doi.org/10.1371/journal.pone.0230405
Bai, Yan; Yao, Lingsheng; Wei, Tao; Tian, Fei; Jin, Dong-Yan; Chen, Lijuan; Wang, Meiyun (2020). "Presumed asymptomatic carrier transmission of Covid-19". Jama, v. 323, n. 14, pp. 1406-1407. https://doi.org/10.1001/jama.2020.2565
Calabuig, José-Manuel; Garcí­a-Raffi, Luis-Miguel; Garcí­a-Valiente, Albert; Sánchez-Pérez, Enrique-Alfonso (2020). "Kaplan-Meier type survival curves for Covid-19: a health data based decision-making tool". Preprint. https://arxiv.org/abs/2005.06032
Cobarsí­-Morales, Josep (2020). "Covid-19: fuentes de información cuantitativa". Anuario ThinkEPI, v. 14, e14d02. https://doi.org/10.3145/thinkepi.2020.e14d02
Dong, Ensheng; Du, Hongru; Gardner, Lauren (2020). "An interactive web-based dashboard to track Covid-19 in real time". The lancet infectious diseases, v. 20. https://doi.org/10.1016/S1473-3099(20)30120-1
España (2020). "Real decreto 463/2020, de 14 de marzo, por el que se declara el estado de alarma para la gestión de la situación de crisis sanitaria ocasionada por el Covid-19". BOE, n. 67, 14 marzo. https://www.boe.es/buscar/act.php?id=BOE-A-2020-3692
Huang, Chaolin; Wang, Yeming; Li, Xingwang; Ren, Lili; Zhao, Jianping; Hu, Yi; Zhang, Li; Fan, Guohui; Zu, Jiuyang; Gu, Ziaoying; Cheng, Zhenshun; Yu, Ting; Xia, Jiaan; Wei, Yuan; Wu, Wenjuan; Xie, Xuelei; Yin, Wen; Li, Hui; Liu, Min; Xiao, Yan; Gao, Hong; Guo, Li; Xie, Jungang; Wang, Guangfa; Jiang, Rongmeng; Gao, Zhancheng; Jin, Qi; Wang, Jianwei; Cao, Bin (2020). "Clinical features of patients infected with 2019 novel coronavirus in Wuhan, China". The lancet, v. 395, n. 10223, pp. 497-506. https://doi.org/10.1016/S0140-6736(20)30183-5
Instituto de Salud Carlos III (2020). Covid-19. https://cnecovid.isciii.es/covid19/#documentaci%C3%B3n-y-datos
Llaneras, Kiko (2020). Los datos del #coronavirus: la serie se ha roto: sabemos los muertos de hoy pero no los de anteayer. https://www.youtube.com/watch?v=6IqrKH1So0I&feature=youtu.be
Madjid, Mohammad; Safavi-Naeini, Payam; Solomon, Scott D.; Vardeny, Orly (2020). "Potential effects of coronaviruses on the cardiovascular system: A review". Jama cardiology, 27 March. https://doi.org/10.1001/jamacardio.2020.1286
Providencialdata19 (2020). Covid19. https://code.montera34.com:4443/numeroteca/covid19
R: The R Project for Statistical Computing (s.f.). https://www.r-project.org
Rothe, Camila; Schunk, Mirjam; Sothmann, Peter; Bretzel, Gisela; Froeschl, Guenter; Wallrauch, Claudia; Zimmer, Thorbjí¶rn; Thiel, Verena; Janke, Christian; Guggemos, Wolfgang; Seilmaier, Michael; Drosten, Christian; Vollmar, Patrick; Zwirglmaier, Katrin; Zange, Sabine; Wí¶lfel, Roman; Hoelscher, Michael (2020). "Transmission of 2019-NCOV infection from an asymptomatic contact in Germany". New England journal of medicine, v. 382, n. 10, pp. 970-971. https://doi.org/10.1056/NEJMc2001468
Salas-Rueda, Ricardo-Adán; Salas-Rueda, Rodrigo-David (2019). "Análisis sobre el uso de la red social Facebook en el proceso de enseñanza-aprendizaje por medio de la ciencia de datos". Revista de comunicación de la SEECI, n. 50, pp. 1-26. http://doi.org/10.15198/seeci.2019.50.1-26
Shiny (s.f.). https://shiny.rstudio.com
The New York Times (2020). "Coronavirus map: Tracking the global outbreak". The New York Times, 30 June. https://www.nytimes.com/interactive/2020/world/coronavirus-maps.html
Torres-Salinas, Daniel (2020). "Ritmo de crecimiento diario de la producción cientí­fica sobre Covid-19. Análisis en bases de datos y repositorios en acceso abierto". El profesional de la información, v. 29, n. 2, e290215. https://doi.org/10.3145/epi.2020.mar.15
Torres-Salinas, Daniel; Robinson, Nicolás; Castillo-Valdivieso, Pedro A. (2020 en evaluación). Open access and altmetrics in the pandemic age: Forecast analysis on COVID-19 related literature. https://doi.org/10.5281/zenodo.3763140
WHO (2020). Coronavirus press conference 11 February. World Health Organization. https://www.who.int/docs/default-source/coronaviruse/transcripts/who-audio-emergencies-coronavirus-full-press-conference-11feb2020-final.pdf?sfvrsn=e2019136_2
Wilkinson, Mark D.; Dumontier, Michel; Aalbersberg, I-Jsbrand-Jan; Appleton, Gabrielle; Axton, Myles; Baak, Arie; Blomberg, Niklas; Boiten, Jan-Willem; Bonino-da-Silva-Santos, Luiz; Bourne, Philip T.; Bouwman, Jildau; Brookes, Anthony J.; Clark, Tim; Crosas, Mercè; Dillo, Ingrid; Dumon, Olivier; Edmunds, Scott; Evelo, Chris T.; Finkers, Richard; González-Beltrán, Alejandra; Gray, Alasdair J. G.; Groth, Paul; Goble, Carole; Grethe, Jeffrey S.; Heringa, Jaap; Hoen, Peter A. C.´t; Hooft, Rob; Kuhn, Tobí­as; Kok, Ruben; Kok, Joost; Lusher, Scott J.; Martone, Maryann E.; Mons, Albert; Packer, Abel L.; Persson, Bengt; Rocca-Serra, Philippe; Roos, Marco; Van-Schaik, Rene; Sansone, Susanna-Assunta; Schultes, Erik; Sengstag, Thierry; Slater, Ted; Strawn, George; Swertz, Morris A.; Thompson, Mark; Van-der-Lei, Johan; Van-Mulligen, Erik; Velterop, Jan; Waagmeester, Andra; Wittenburg, Peter; Wolstencroft, Katherine; Zhao, Jun; Mons, Barend (2016). "The FAIR guiding principles for scientific data management and stewardship". Scientific data, v. 3, n. 1, 160018. https://10.1038/sdata.2016.18
Worldometer (2020). About Worldometer Covid-19 data. https://www.worldometers.info/coronavirus/about/#sources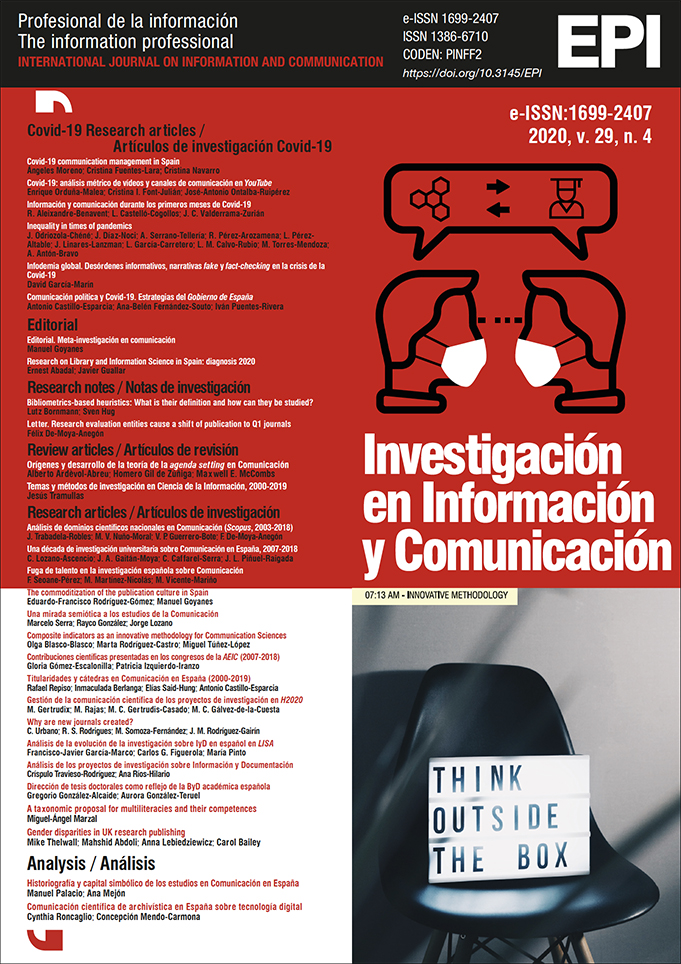 Descargas
Cómo citar
Ferrer-Sapena, A., Calabuig, J.-M., Peset, F., & Sánchez-del-Toro, I. (2020). Trabajar con datos abiertos en tiempos de alarma: el caso de uso de covidDATA-19. Profesional De La información Information Professional, 29(4). https://doi.org/10.3145/epi.2020.jul.21
Sección
Artí­culos de investigación Covid-19 / Covid-19 research articles
Licencia
Condiciones de difusión de los artí­culos una vez son publicados
Los autores pueden publicitar libremente sus artí­culos en webs, redes sociales y repositorios
Deberán respetarse sin embargo, las siguientes condiciones:
- Solo deberá hacerse pública la versión editorial. Rogamos que no se publiquen preprints, postprints o pruebas de imprenta.
- Junto con esa copia ha de incluirse una mención especí­fica de la publicación en la que ha aparecido el texto, añadiendo además un enlace clicable a la URL: http://www.profesionaldelainformacion.com
La revista Profesional de la información ofrece los artí­culos en acceso abierto con una licencia Creative Commons BY.